Nutter Butter Icebox Cake
Nutter Butter Icebox Cake is a no-bake easy dessert recipe for the summer using everyone's favorite Nutter Butter cookies!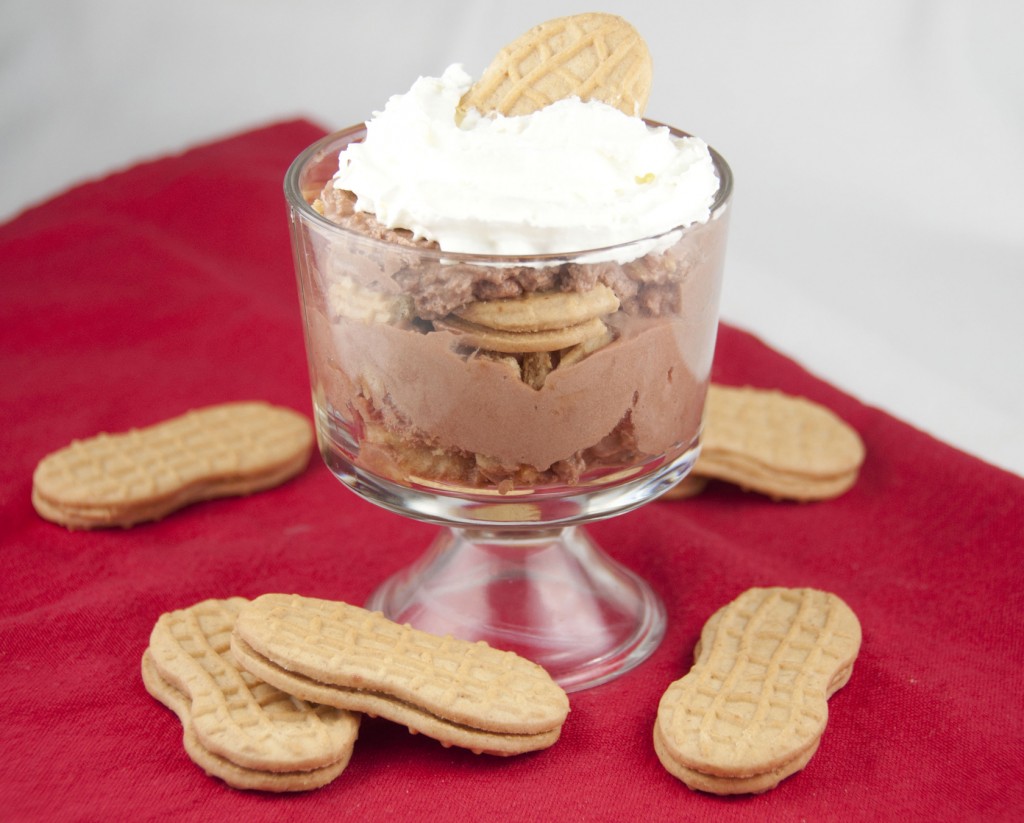 What the heck is a Nutter Butter Icebox Cake?  I know that's what you are thinking because that's what I was thinking when I first heard of these cakes.  Apparently, they were popular starting wayyyy back in the 1930's and are now making a big comeback!
I guess I have been living under a rock for my whole life….or I was deprived as a child by never having tried one, one or the other.  They are really not even cakes at all and are typically a simple log-like dessert consisting of some sort of cookies or graham crackers and whipped cream or pudding.
Once the cookies and the cream have a chance to sit in their rows and "mingle" in the refrigerator, the cookies soften after soaking in the whipped cream and become "cake-like".  Ice box cakes got their name because in those ancient days the refrigerator was called an "ice box" and the cake had to be chilled.

There are a million possibilities with an icebox cake and they are a good fit for any special occasion.  The best part is that they are no-fuss and don't have to be baked.  I know that appeals to……well, pretty much everybody!
I chose this version because we are huge Nutter Butter fans in this house.  Also, the chocolate "pudding" ends up being more of a mousse when combined with the whipped cream and is delicious. The mousse along with the Nutter Butters create the incomparable flavor combination of peanut butter and chocolate!
This was actually made as a belated birthday cake for Mr. Wishes.  I realized, all on my own, that I never did much of anything too special for his birthday this year (just kidding, he made sure he reminded me every day for almost a week!), so I finally got around to whipping this delicious dessert up.
Hey, I did dedicate this post all to him and his special day so give me some credit here!  Anyways, this was an easy way to surprise him with a sweet treat and remind him how much I love him, even when I'm a little tardy.
Addendum:  Mr. Wishes' exact words when he finished his piece of cake:  "WOW, I'm regretting THAT!".  But in a good way, of course 🙂
Nutter Butter Icebox Cake
Nutter Butter Icebox Cake is a no-bake easy dessert recipe for the summer using everyone's favorite Nutter Butter cookies!
Ingredients
1 (14 oz) can sweetened condensed milk
1 cup ice-cold water
1 pkg (3.4 oz) instant chocolate pudding
2 cups heavy whipping cream
4 cups coarsely chopped Peanut Butter sandwich cookies (such as Nutter Butter)
extra cookies and whipped cream for garnish
Instructions
Whip your heavy cream on medium high until soft peaks form, about 1½ minutes. Set aside.
In a medium bowl whisk together sweetened condensed milk and water until combined. Add in chocolate pudding and whisk vigorously for 5-6 minutes until mixture becomes thick.
Fold in your whipped cream into the pudding mixture and stir until completely incorporated.
In a 2.5 - 3 qt casserole dish spread ⅓ of the pudding mixture on the bottom. Top with 2 cups chopped cookies. Repeat this process again and finish with pudding mixture.
Cover and refrigerate for at least 4 hours.
Garnish with whipped cream and more cookies.
Recipe source: adapted from cookiesandcups.com