Caramel S'mores Popcorn
Caramel S'mores Popcorn recipe is the perfect movie night snack made easy by using store-bought caramel popcorn!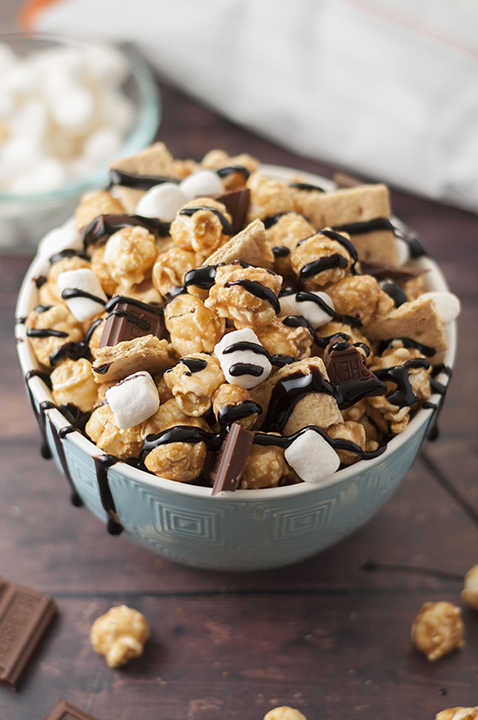 Our spring hasn't exactly been the nicest here in Rochester this year. We have definitely had better! Cooler nights lately have called for frequent movie nights. Mr. Wishes and I have made the most of rainy nights in and binge-watched some of the movies we've been wanting to see lately and ate some Caramel S'mores Popcorn.
Let me tell you, I have found the greatest home movie night snack that I just have to share with you today. (Not my bag of popcorn, though. That I'm not sharing.) A giant bowl of G.H. Cretors popcorn in your flavor of choice is what you need to complete your perfect movie night! It tastes so heavenly and I think it might even be my blood type after large consumption of this popcorn.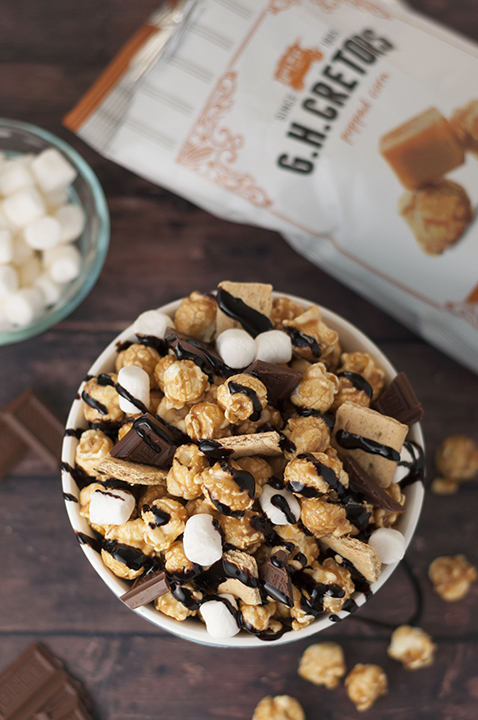 I know you will be a huge fan of this popped corn because the amazing flavors separate it from any other bag of popcorn you have tried – trust me. Popped in Waukegan, Illinois where popcorn is actually their state snack, G.H. Cretors doesn't use any artificial colors, flavors or preservatives in their popcorn.
G.H. Cretors uses only Non-GMO popcorn and ingredients that have been verified by the Non-GMO Project. They have an organic line, as well! Be wary of the addictiveness of this popcorn – consider yourself warned. I could seriously finish the whole bag in one day (and maybe I did…don't judge.) G.H. Cretors popcorn is also naturally certified gluten-free, so it can satisfy a wide range of dietary restrictions.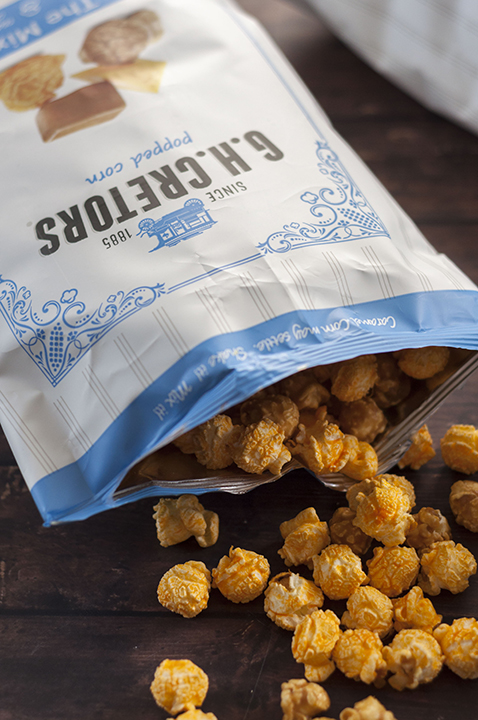 Seriously, where has this been all my life? "The Mix" (cheddar cheese and caramel together in one bag) is a sweet and salty combination that is just out of this world. It is crunchy, sweet, salty and highly addictive.
I won't embarrass myself by saying how fast Mr. Wishes and I plowed through a bag of this stuff. I wasn't sure what it was going to taste like, but I was pleasantly surprised! The super cheesy popcorn balances out the sweetness of the caramel corn. The popcorn pieces are all popped to perfection, and each is coated in a lot of flavor! They do NOT skimp on the cheese or the caramel coating, let me tell you. It tastes very homemade and is my new favorite popcorn.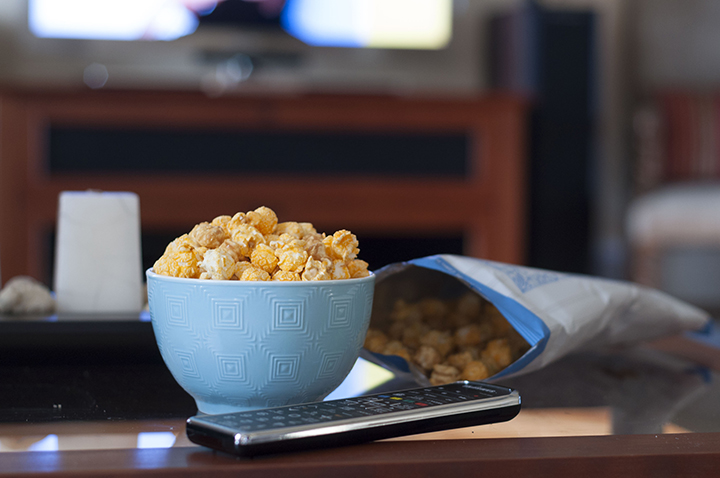 A little history on the brand: G.H. Cretors goes all the back to 1893 with Charles Cretors, confectioner and inventor, who unveiled the very first popcorn machine at the Chicago World's Fair. His great-great grandaughter popped the very first batch of "obsessively delicious" G.H. Cretors Popped Corn flavors 4 decades later.
Their artisinal popcorn is made in small batches using the best quality ingredients. It's always interesting to learn where it all began! Fun fact: did you know that Americans eat an estimated 17 billion quarts of popcorn every year? I think I may account for 1 billion of those quarts all by my lonesome.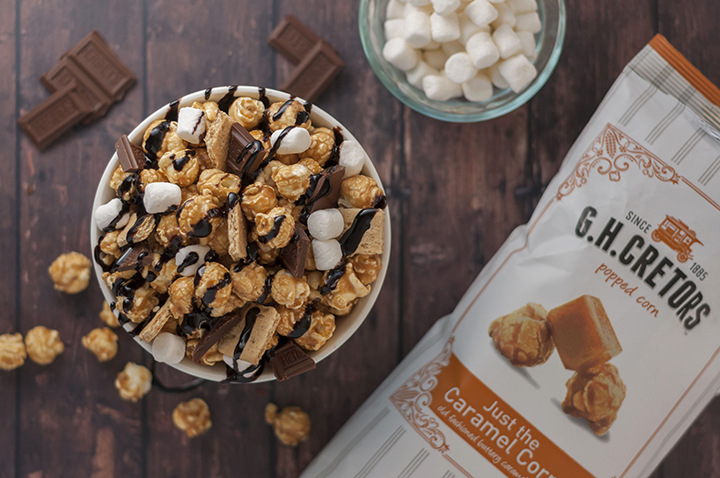 
I decided to take the delicious caramel popcorn and make this super simple Caramel S'mores Popcorn with it. This it not only the perfect movie night snack, but it would be a great to take on those summer road trips.
Anything s'mores just screams "summer", right? G.H. Cretors popcorn is a great stand-alone snack, but sometimes I can't help myself and like to jazz things up a little more. Kids and adults will go crazy for the s'mores snack mix! I think I will be enjoying this not only for future movie nights, but I may need a huge bowl of it for sitting around the campfires this summer.
If you love your s'mores recipes, you have to check out my ever-so-popular S'mores Pie (one of the most popular recipes on my site) or my Peanut Butter S'mores Cookies. You might also love these No-Bake S'mores Cups from my friend Sandra or S'mores Brownies from my friend Erin. Enjoy!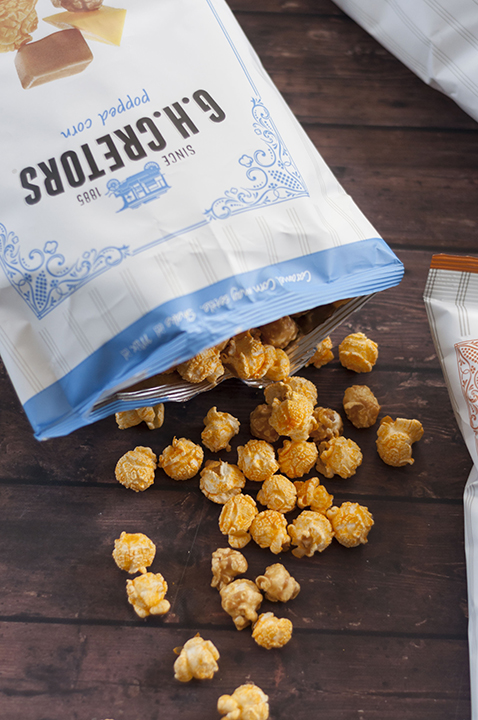 Here is a list of G.H Cretors bold, craveable flavors:
The Mix (cheddar cheese and caramel together in one)
Organic Chile Jalapeño White Cheddar
Organic Dill Pickle
You all need to get your hands on this popcorn for your next family movie night! Just don't blame me when you inevitably become completely addicted to it. It can be found nationwide in Walgreens, Target, Rite Aid, BJs, Wegmans and more. Here is the store locator to make it easy for you.
Caramel S'mores Popcorn + G.H. Cretors Popped Corn
Prep time:
Cook time:
Total time:
Caramel S'mores Popcorn recipe is the perfect movie night snack or dessert made easy by using store-bought caramel popcorn!
Ingredients
4 cups of caramel popcorn
2 cups of graham cracker pieces
½ cups of mini marshmallows
Instructions
Combine popcorn, marshmallows, and graham cracker pieces in a bowl and gently mix together.
Spread popcorn on a baking sheet.
Melt chocolate in the microwave, 25-30 seconds at a time so it doesn't burn.
Drizzle chocolate over the popcorn mixture and allow to harden (about 10 minutes).
Serve and enjoy! Store any leftovers in an airtight container.
Disclaimer: Thank you, G.H Cretors, for sponsoring this conversation.  All opinions remain 100% my own, as always.