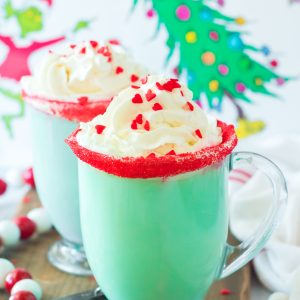 Grinch Hot Chocolate
This Grinch Hot Chocolate recipe is the perfect combination of creamy, smooth hot chocolate and green Grinch fun for Christmas. Kids and adults will love it!
Place the milk, white chocolate, vanilla extract and peppermint extract in a medium saucepan. (You can also throw it all in the crock pot on low until melted.)

Whisk over medium low heat until the chocolate is all melted.

Add in your green food coloring a little at a time until you get your desired shade of green.

Once the chocolate is melted you can top with whip cream and serve!!

You do not want this to come to a boil, so keep it on medium low and keep an eye on it.

To create the sprinkle rim around the mug I dipped the edges of my mug in melted white chocolate and sprinkles with red sugar sprinkles.