Greek Chicken Soft Tacos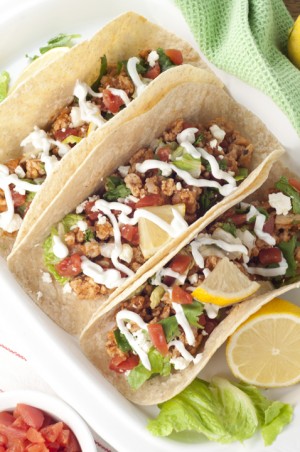 1 Tbsp olive oil
½ cup chopped red onion
1 lb ground chicken
Salt, to taste
2 Tbsp minced garlic
⅔ cup tomato sauce (I used Tuttorosso)
¼ cup chicken stock
1½ tsp dried oregano
½ tsp each dried thyme
2 Tbsp fresh lemon juice
Flour tortillas (I used whole wheat, Tzatziki sauce - homemade or store-bought, chopped romaine lettuce, crumbled feta cheese, diced Tuttorosso tomatoes, peeled and diced cucumbers, chopped red onion, fresh cilantro)
Heat olive oil in a large skillet over medium-high heat.
Add in red onion and saute for about 3 minutes then add chicken, season with salt to taste and proceed with cooking. Break up the chicken and stir occasionally until almost cooked through.
Add the minced garlic and continue to cook until ground chicken is fully cooked.
Stir in tomato sauce, chicken stock, oregano, and thyme. Season with a little bit more salt to taste.
Bring the mixture to a boil then reduce the heat to low and cook uncovered, stirring occasionally until sauce has reduced (this will take about bout 6 - 8 minutes).
Stir in fresh lemon juice. Serve warm over tortillas and top with the toppings listed above.