Cocoa-Banana Mug Cake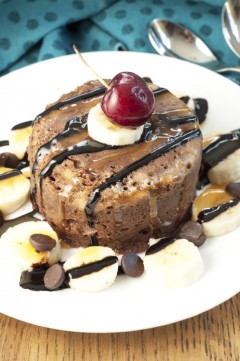 1 overripe banana
¼ cup peanut butter, almond butter OR any nut butter
1 large egg
2 teaspoons Maui Raws Turbinado Sugar (or any Turbinado sugar)
3 tablespoons unsweetened cocoa powder
¼ cup mini chocolate chips
Mash the banana in a large mug with a fork. Add the peanut butter and egg and mix all together thoroughly.
Stir in the sugar and cocoa and beat until smooth. Fold in the chocolate chips. Divide the better between two mugs or use one large mug.
Microwave (on HIGH) separately for 1.5 to 2.5 minutes each until risen and firm.
Eat out of the mug or gently invert onto a plate.
Top it how you prefer: chopped nuts, fruit, whipped cream, chocolate sauce (homemade recipe here), etc.