Soft Glazed Pumpkin Sugar Cookies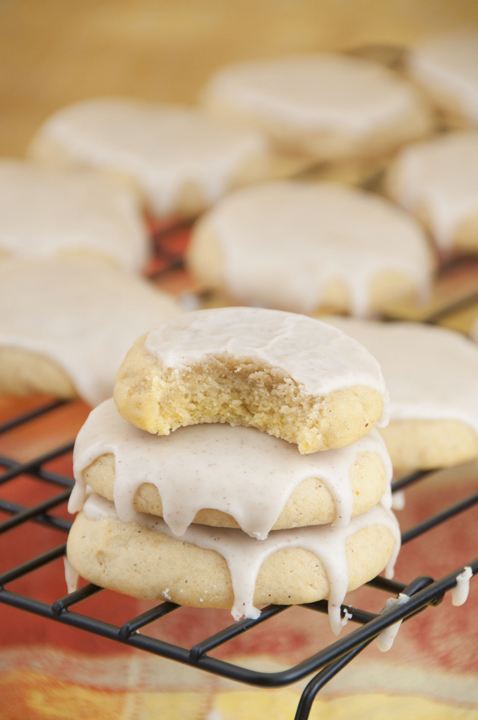 ½ cup unsalted butter, softened
½ cup vegetable or canola oil
½ cup pumpkin puree {canned pumpkin}
1 cup granulated sugar
½ cup powdered sugar
½ teaspoon vanilla
2 large eggs
4 cups all purpose flour
¼ teaspoon baking soda
¼ teaspoon cream of tartar
½ teaspoon salt
1 teaspoon pumpkin pie spice
3 cups powdered sugar
4 tablespoons water
¼ teaspoon pumpkin pie spice
Preheat oven to 350 degrees.
Line a baking sheet with parchment paper or silicone baking mat and set aside.
In a large bowl, stir butter, oil, pumpkin, sugars, vanilla and eggs together until incorporated and smooth.
Slowly mix in all dry ingredients until completely incorporated.
Scoop onto prepared baking sheet using 1½ tablespoon scoop and flatten to ½ inch thick using the bottom of a glass where the bottom has been pressed in granulated sugar before flattening.
Bake 8-9 minutes.
While cookies bake, stir all ingredients together for glaze until smooth.
Once cookies are finished baking, cool 3 minutes on baking sheet before transferring to cooling rack.
Spread 1½ teaspoons glaze over each slightly warm cookie (glaze will run a little off the sides). Let glaze harden 2-3 hours before serving.
Recipe by
Wishes and Dishes
at https://wishesndishes.com/soft-glazed-pumpkin-sugar-cookies/