Brownie Brittle Orange Marmalade Petit Fours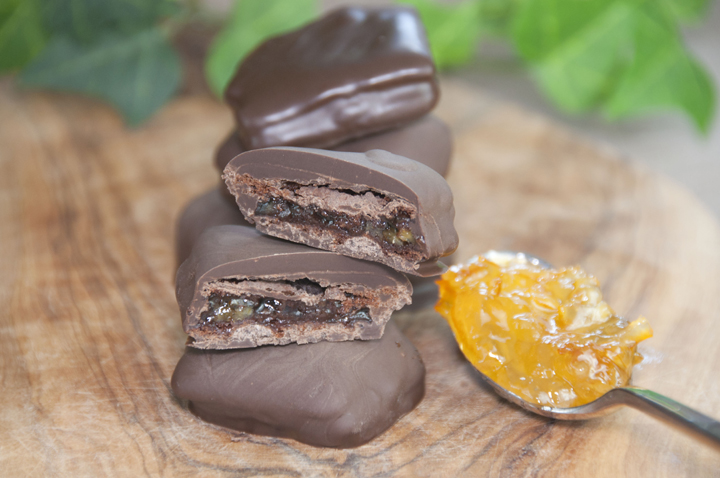 1 medium navel orange
2 tablespoons water
½ cup sugar
Wash the orange thoroughly. Cut off both ends of the orange. Cut the orange in half, cut each half in about eight sections. Place the orange sections in the food processor and pulse until the peel in is tiny pieces. In a medium saucepan place the processed orange, the water and the sugar and bring to a gentle boil. Boil for 15 minutes, stirring frequently. Let cool, then place in a glass jar with a tight fitting lid. Store in the refrigerator. Make sure it is cold before using.
In a separate bowl, stir together the marmalade and orange liqueur.
Pair Brownie Brittle squares that are similar in size. On the flat side of one square, spread ¼ teaspoon of the orange marmalade filling and place flat side of the 2nd Brownie Brittle square on top (the marmalade will be sandwiched in the middle). Repeat process until you have used all squares.
Melt chocolate using a double broiler or microwave.
Dip squares into the bowl of melted dark chocolate using a fork and let excess chocolate drip off.
Place on a piece of waxed paper to set for a half hour or until chocolate is hardened. Repeat process until all are coated. You should have approximately 24 sets of squares. You will have chocolate leftover but it makes it easier to thoroughly coat your Petit Fours by having extra in the bowl.
Recipe by
Wishes and Dishes
at https://wishesndishes.com/brownie-brittle-orange-marmalade-petit-fours/