Honey Buttermilk Bread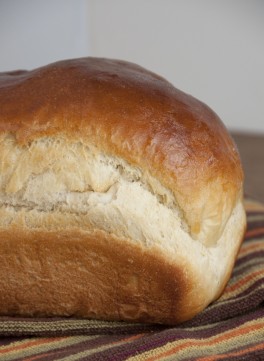 Serves:
2 loaves, 24 slices
1 envelope yeast (1 tablespoon)
1 teaspoon sugar
¼ cup warm water
pinch of ginger (helps activate the yeast)
2 cups warm buttermilk
⅓ cup honey
¼ cup butter, melted and cooled so that it is warm to the touch but not hot.
1 teaspoon salt
¾ teaspoon baking soda
6 cups white bread flour
Mix the ginger, sugar, yeast, and water together in a bowl and set aside for about five minutes.
Add in the buttermilk, honey, salt, baking soda into the bowl with the yeast mixture.
Add just three cups of the flour and mix that in until smooth. If you use an electric mixer it will take about 5 minutes on low speed.
Add the butter and mix until completely incorporated into batter.
Start to add the rest of the flour, one cup at a time, keeping mixer on low speed as you do this.
When dough starts to pull from the sides of the bowl remove it from the mixer to a floured surface and knead until elastic and smooth.
Place the dough in a greased bowl, move it around to grease the all sides, cover and allow to rise for 1½ hours.
Punch the dough down and form into two loaves.
Place into two greased loaf pans and grease tops.
Cover the pans and allow to rise for 45 minutes.
Preheat oven to 400F. Bake loaves for 30 minutes, covering tops with foil if they start to brown too fast.
Remove loaves from oven once baked through and brush tops with melted butter.
Allow to cool in pans for 10-15 minutes to make removing them easier.
Turn out and cool completely on wire rack.