Caramel Macchiato Soft Serve Ice Cream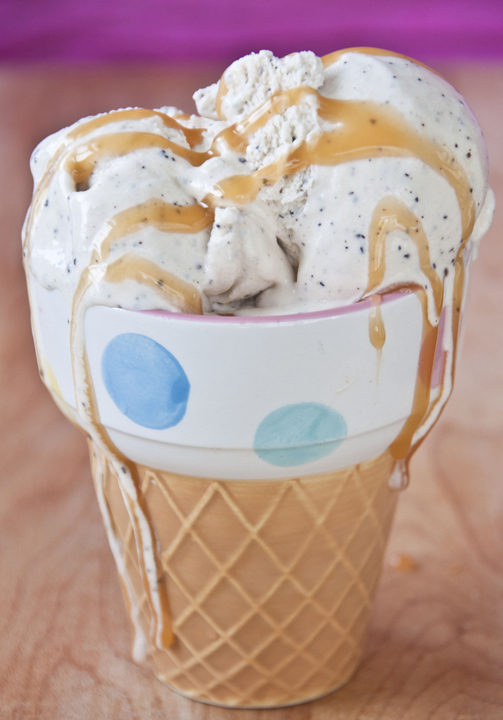 1 cup milk
2 tablespoons instant coffee granules*
1 cup white sugar
1 pinch salt
2 cups heavy cream
½ cup caramel dessert sauce (homemade or store-bought), plus more for topping
Whisk together milk, instant coffee granules, sugar, and salt in a large bowl until sugar is dissolved.
Stir in the heavy cream, then cover and refrigerate until mixture is chilled, at least 2 hours.
Pour the chilled mixture into an ice cream maker (this is the ice cream maker I use) and freeze according to manufacturer's directions until it reaches soft-serve consistency. Just eyeball it - when it looks like ice cream, it's done. Mine took a half hour.
Transfer half of the ice cream to a one- or two-quart lidded plastic container. Pour half of the caramel sauce over the top, then repeat the layers with the remaining ice cream and caramel. Swirl the caramel into the ice cream using a knife or just mix it in with a spoon if you don't want the swirls and only the flavor.
Cover surface with plastic wrap to prevent freezer taste/burn and put the top tightly on the container. For best results, ice cream should sit in the freezer for at least 2 hours or overnight. The longer you freeze it the firmer it will be.
Serving size:
12 servings
Recipe by
Wishes and Dishes
at https://wishesndishes.com/caramel-macchiato-ice-cream/