Hawaiian Bubble Bread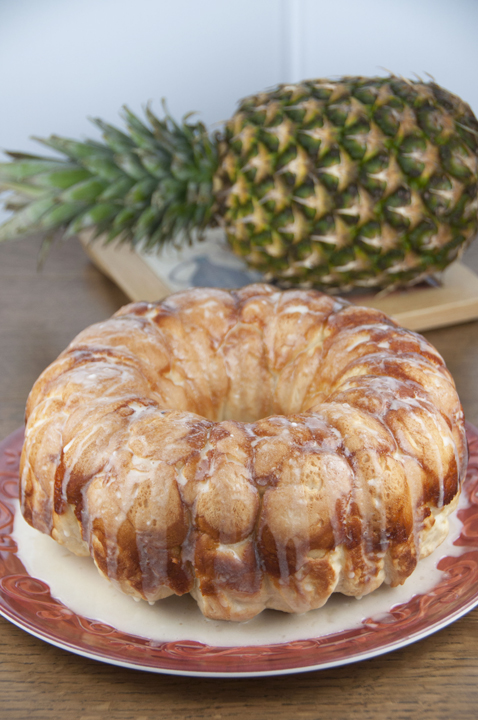 1 teaspoon granulated sugar
ONE ¼ oz. package rapid/quick rise yeast
1 cup warm water
1 cup sliced ripe banana
½ cup pineapple-orange-banana juice, concentrate undiluted (Dole makes this, or just use any fruit juice))
½ cup honey
2 tablespoons butter, melted
5 cups bread flour, divided
1 teaspoon salt
non-stick cooking spray
½ cup cream of coconut| (NOT coconut milk or coconut water)
4 tablespoons pineapple-orange-banana juice, concentrate undiluted (or any fruit juice)
1 cup sifted powdered sugar
Dissolve the sugar and yeast in the warm water and let stand for 5-10 minutes.
In a blender, blend the banana, ½ cup of the juice, honey, and butter until smooth. Set aside.
Spoon 2 cups bread flour into a measuring cup using this method.
In a large bowl, sift together the bread flour and salt, then add the yeast mixture and the banana mixture from the blender and stir until well combined.
Measure out another level 2¼ cups bread flour and stir it into the mixture until it forms a nice, soft dough.
Flour a clean counter top or cutting board and place the dough on it. Knead until the dough it is elastic and smooth, about 8-10 minutes. Add, 1 tablespoon at a time of the remaining flour, as needed, to keep the dough from sticking to your hands during this step.
Coat a large bowl with cooking spray and place the kneaded dough in it, flipping the dough on each side to coat to coat it with the spray.
Cover bowl with a damp cloth and let dough rise in a warm place for about 1½ hours or until the dough has doubled in size.
Once it is doubled, punch the dough down once last time and place it on a lightly floured surface and let it rest for 5 additional minutes.
Coat a 10-inch bundt pan with non-stick spray.
Pull away pieces of dough and form them into balls about 1½ inches in size (about 30 balls).
Layer the dough balls in the prepared bundt pan and set aside.
In a bowl stir together the cream of coconut and 4 tablespoons of pineapple-orange-banana juice. Pour 4 tablespoons of the mixture over the dough in the bundt pan and set aside the rest of juice mixture.
Cover dough in bundt pan with a damp cloth and let rise for 1½ hours or until doubled in size.
Preheat oven to 350 degrees F.
Remove cloth and bake in preheated oven for 30 minutes.
Remove pan and let the bread cool in the pan for about 20 minutes. Turn bread out onto a wire rack to cool completely.
Stir the powdered sugar into the remaining juice mixture and drizzle it over the top of the warm bread right before serving (the bread will soak up too much glaze if you do it too far in advance).
Cut the bread into slices or put it in the middle of the table and use the "pull apart" method. Enjoy!