Brownie Brittle Chocolate Peanut Butter Parfaits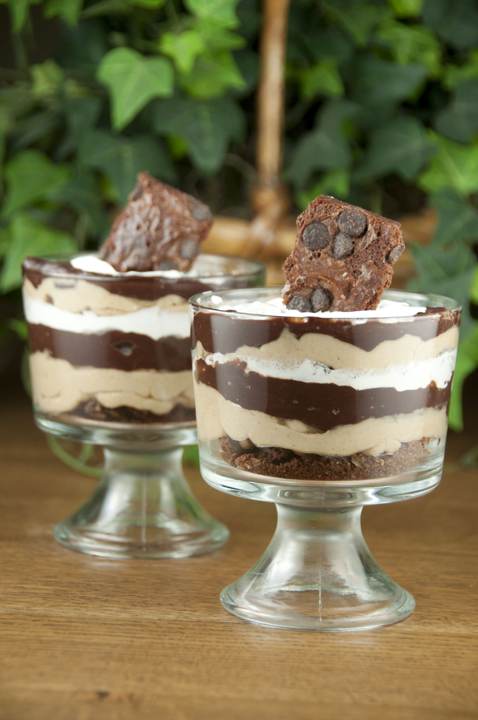 1 - 4 oz. bag Sheila G's Brownie Brittle, crushed, flavor of choice (can use graham crackers if you can't get Brownie Brittle)
1 cup creamy peanut butter
1 (8 ounce) block cream cheese, softened
4 tablespoons powdered sugar
1 (8 ounce) tub of whipped topping (such as Cool Whip)
1 (12 ounce) bag milk chocolate chips
½ cup milk
Combine the peanut butter, cream cheese, and powdered sugar in a large bowl.
Mix together until combined (mixture will be thick).
Stir in the whipped topping. Save about a cup to add on top at the end (this is optional). You can also added more crushed Brownie Brittle to the top. Up to you.
In a separate microwave-safe bowl, add the milk and chocolate chips. Microwave in 30 second intervals stirring after each cycle until chocolate is completely melted. (About 1 minute 30 seconds).
Start with a layer of crumbled Brownie Brittle.
Add a layer of the peanut butter mixture (I used a piping bag to make it easier and less messy.)
Add a layer of the chocolate ganache.
Add a layer of whipped topping (I did this with a spoon).
Repeat layers enough times to use up all of the ingredients evenly.
Top with whipped topping (optional) and a piece of Brownie Brittle.
Cover with plastic wrap and store in the refrigerator.
Recipe by
Wishes and Dishes
at https://wishesndishes.com/brownie-brittle-chocolate-peanut-butter-parfaits/