Giant Peanut Butter and Jelly Cookie Cups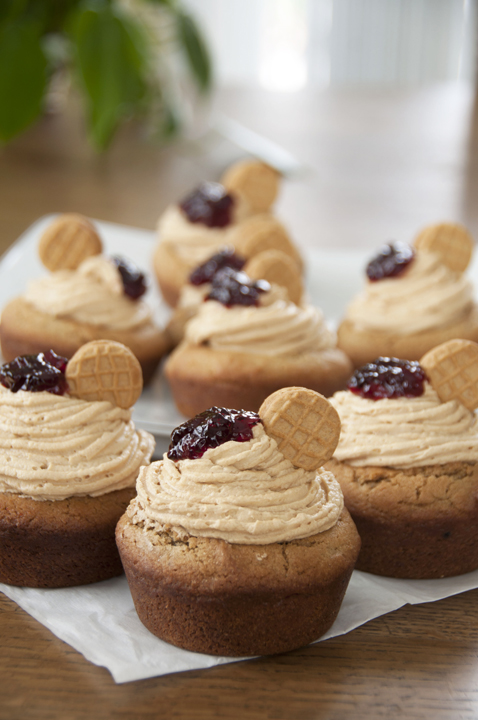 Serves:
8 or 9, depending on size
1¾ cups all purpose flour
½ teaspoon salt
1 teaspoon baking soda
½ cup butter, softened
½ cup white sugar
½ cup creamy peanut butter
½ cup packed brown sugar
1 egg, beaten in a separate bowl before adding
1 teaspoon vanilla extract
2 tablespoons milk
1 and ½ cup creamy peanut butter
8 Tbsp unsalted butter, room temperature
¼ tsp. kosher salt
½ cup heavy whipping cream
1 and ½ tsp. vanilla
2 and ¼ cup powdered sugar
Strawberry or Raspberry jam/jelly, for filling and topping (optional)
Mini Nutter Butter cookies, for topping (optional)
Preheat oven to 375 degrees F.
Mix together the flour, salt and baking soda; set aside.
Cream together the butter, sugar, peanut butter and brown sugar until fluffy.
Beat in the egg, vanilla and milk.
Add the flour mixture; mix well.
Shape into balls (as shown above) and place each into a greased jumbo muffin tin.
Bake at 375 degrees for about 16-17 minutes - make sure they aren't getting too brown on top.
As soon as you take them out of the oven, use something with a circular bottom (I use the bottom of an ice cream scoop or a tablespoon) to press into the middle of the cups and make craters. Whatever you use should be slightly less than the width of the cookie.
Let cool completely in the pan and carefully remove from pan. Run a butter knife around the edges of the cooled cookies to loosen and gently lift out. I didn't need to do this, I just pulled them out with my fingers.
Fill each crater with your choice of jelly or jam (about 1 tablespoon fit in each for me).
Place the peanut butter, butter, and salt in the bowl of a stand mixer. Beat on medium speed, just until thoroughly combined.
Add the remaining ingredients and combine all together by beating on medium speed.
Turn the speed up to high and beat for ¾ more minutes, until frosting is light, airy, and fluffy. Be patient! You don't want a heavy dense frosting for these cookie cups.
Transfer frosting to a piping bag, or make your own piping bag using a ziplock bag (put filling in bag, work it to the bottom of one corner, twist off the top and snip off a small bit of the corner).
Frost the cookie cups (I used Wilton 1M piping tip) once they are completely cooled and the indentations have already been filled with the jelly/jam. Pipe the frosting in high, swirling mounds on top, like frosting a cupcake.
Top with a small dollop of jam/jelly and mini nutter butter cookies (optional).
You will probably have leftover frosting - freeze it for the future or use it in another recipe!
Recipe by
Wishes and Dishes
at https://wishesndishes.com/giant-peanut-butter-jelly-cookie-cups/