Giant Lemon Mousse Sugar Cookie Cups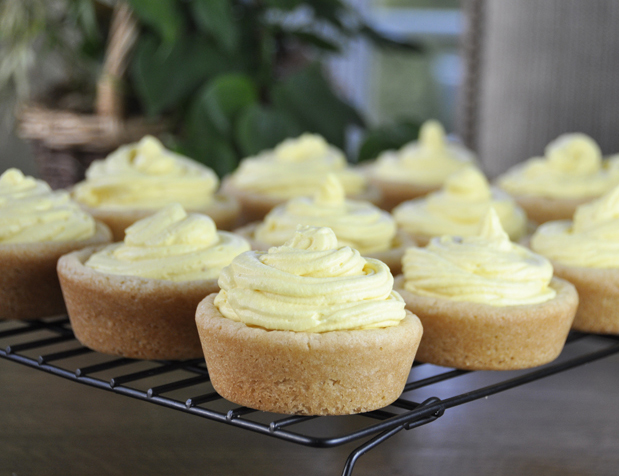 2 cups COLD heavy cream
2 tsp. vanilla extract
1 package Jello Instant Lemon Pudding Mix
1 tablespoon of lemon zest
8 oz (one cup) sweetened condensed milk
1 cup very cold water
Yellow food dye (optional, but makes mousse yellow)
2 (16.5 oz) tubes sugar cookie dough (like Pillsbury)
Preheat oven to 350 degrees.
Spray jumbo muffin tin(s) with nonstick cooking spray.
Break off chunks of dough and roll into balls (picture above shows how big to make them). Drop balls into muffin tin.
Bake 20 minutes, or until puffed and set, and golden around the edges. They might look a little undercooked at the bottom but they will harden as they cool.
As soon as you take them out of the oven, use something with a circular bottom (I used the bottom of an ice cream scoop) to press into the middle of the cups and make craters.
Whatever you use should be slightly less than the width of the cookie.
Let cool completely IN the pan.
In a large bowl, beat the cream and vanilla on high with a hand mixer until stiff peaks form. Place in fridge.
In another large bowl, whisk together pudding mix, sweetened condensed milk, water, and lemon zest until thickened, about 2 minutes.
Place in fridge for 5 minutes to set up completely. It should be thick.
Fold whipped cream into pudding just until evenly distributed.
Stir in yellow food dye (I used quite a bit to get the rich yellow color I wanted).
Cover and place in fridge.
Run a butter knife around the edges of the cooled cookies to loosen and gently lift out. I didn't need to do this, I just pulled them out with my fingers.
Transfer to whatever surface you wish to work on.
Transfer lemon mousse to a piping bag, or make your own piping bag using a ziplock bag (put filling in piping bag, work it to the bottom of one corner, twist off the top and snip off a small bit of the corner).
Pipe the filling in high, swirling mounds. You can also just scoop the filling in with a spoon but it won't look as nice, in my opinion.
Store in refrigerator in an airtight container after assembled or until ready to eat.
Recipe by
Wishes and Dishes
at https://wishesndishes.com/giant-lemon-mousse-sugar-cookie-cups/