Giant Carrot Cake Cookie Cups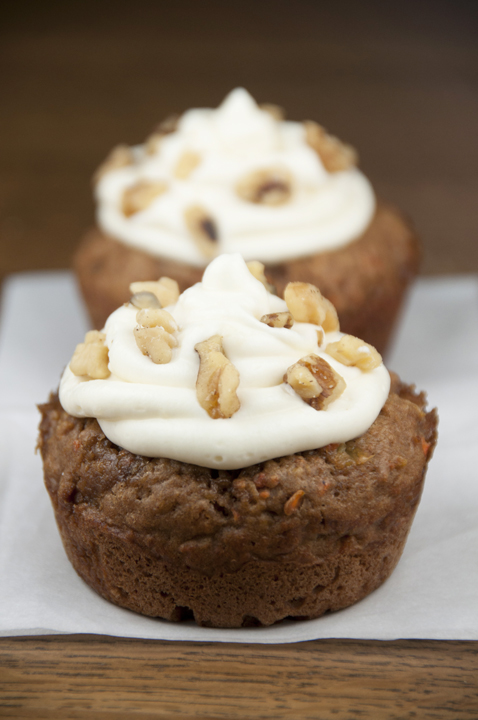 Serves:
about 8, depending on size
½ cup butter, softened
1 cup light brown sugar, packed
2 large eggs
1 (8 ounce) can crushed pineapple, drained well
¾ cup shredded carrots
2 cups all-purpose flour
1 teaspoon baking powder
½ teaspoon baking soda
½ teaspoon salt
2 tablespoons ground cinnamon
crushed walnuts, for topping (optional)
1 (8 ounce) package cream cheese
1 cup granulated sugar
⅛ teaspoon salt
1 teaspoon vanilla extract
1½ cups heavy whipping cream
Preheat oven to 350 degrees F (175 degrees C). Grease jumbo muffin tin with cooking spray (grease well).
In a large bowl, cream together the butter and brown sugar until smooth.
Beat in the eggs one at a time, stir in the crushed pineapple and carrots.
Combine the flour, baking powder, baking soda, salt and cinnamon; stir that into the carrot mixture.
Fill jumbo muffin tins to about half full with the cookie batter (this step is pictured above).
Bake for about 17 minutes in the preheated oven or until cookie cups are set (mine took exactly 17 minutes).
Make indentation in cookie cups while still hot with the back of a tablespoon or cookie scoop (this step is pictured above). This indentation is where you will put frosting into.
Allow cookie cups to cool COMPLETELY before trying to remove from pan. They should come out easily by just pulling them out with your fingers or use a knife to help pop them out.
Pipe frosting (directions below) into the cup and mound it on top to your preference.
Top with crushed walnuts, if desired.
In a small bowl beat whipping cream until stiff peaks form (be patient - it could take several minutes); set aside.
In a large bowl combine cream cheese, sugar, salt and vanilla. Beat until smooth.
Beat in whipped cream.
Recipe by
Wishes and Dishes
at https://wishesndishes.com/giant-carrot-cake-cookie-cups/