Easter Bunny Bark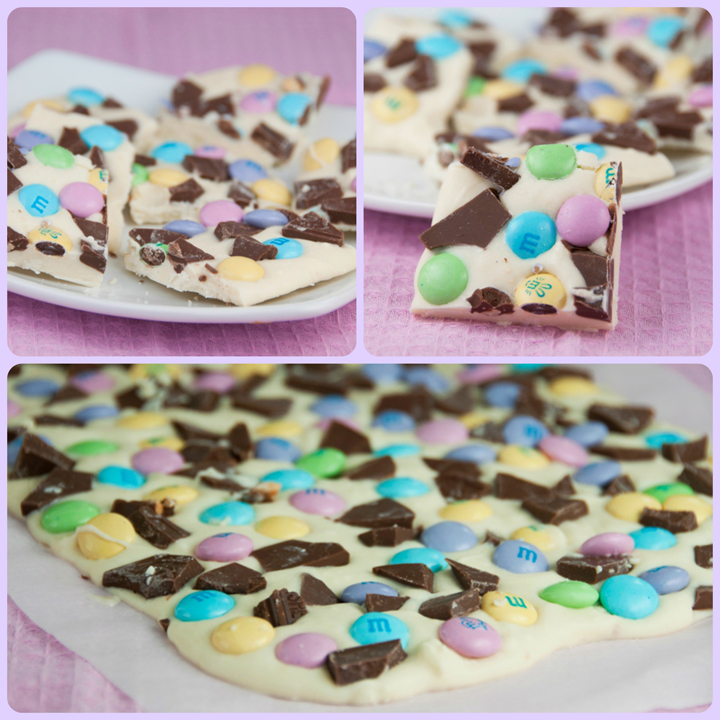 -20 ounces of good quality white chocolate (I used Ghirardelli squares – don't use the baking chips!)
-a variety of Easter candy
Begin by roughly chopping the candy.
Line an 9 x 11 (or close to it) pan with parchment paper.
Microwave for 15-30 seconds and stir.
Continue to microwave chocolate for 15-30 seconds and then stir until chocolate is completely melted.
Do not microwave for more than 30 seconds or chocolate will scorch and clump! White chocolate is very funny like that!
If you run into trouble and chocolate clumps, I found a trick that works: melt a couple tablespoons of butter and pour the WARM butter (half of it, more if needed) into the chocolate and mix together. The white chocolate will magically become the consistency you need it to.
Pour melted chocolate onto parchment paper and spread evenly with a spatula. Mine didn't completely come to the edges of the pan but that's OK! It doesn't have to be perfectly square since you will be cutting it up anyways.
Begin placing Easter candy into the white chocolate. Press the candy down a little into the chocolate so that when you cut the bark, the candy stays in place and doesn't pop out.
Let the Bunny Bark sit for several hours until it hardens. If you're in a hurry, pop it in the fridge for 30-60 minutes.
Make sure it's completely hardened. Transfer bark to a cutting board.
Cut the bark into squares (however large you wish) with a large, sharp knife.