Pepperoni Pizza Bread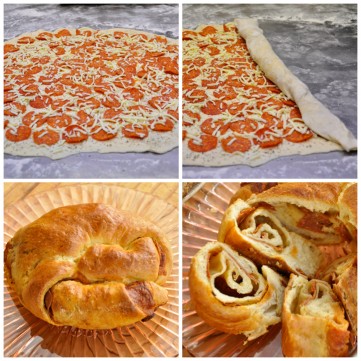 1 - 1.25 pounds pizza dough, rolled out thin
pepperoni (about ½ lb)
mozzarella cheese (or cheese of choice, about ¼ lb)
1 egg yolk, beaten
vegetable oil
oregano, salt & pepper
optional: any veggies you wish to add
(For this bread, prepare your favorite pizza dough recipe (here is a good one if you don't have a favorite: http://allrecipes.com/recipe/quick-and-easy-pizza-crust/detail.aspx), or use fresh pizza dough from your grocery store.)
Prepare the recipe of your favorite pizza dough, if making from scratch.Dust a clean work surface with flour.
Roll out dough into a long circular shape, about 12-14 inches long and about 8 inches wide.
Roll the dough thin.
Rub dough with vegetable oil and blot any excess oil.
Salt and pepper the dough generously and sprinkle oregano over all.
Spread pepperoni over the whole thing (and any other goodies you are adding). Sprinkle cheese on.
Roll and form into a ball after rolling (pictured above).
Using a pastry brush, brush beaten egg over the top of the bread and down the sides.
Sprinkle with pizza seasoning, if desired.Preheat oven to 375 degrees (preheat a pizza stone, if using) and bake on a lightly greased or foil-lined baking sheet or pie pan for about 45 minutes. Keep an eye on it and it's done when the crust is golden brown.Cut into pieces using a sharp knife.
Serve with marinara sauce to dip, if you wish!