The Best Homemade Chicken Noodle Soup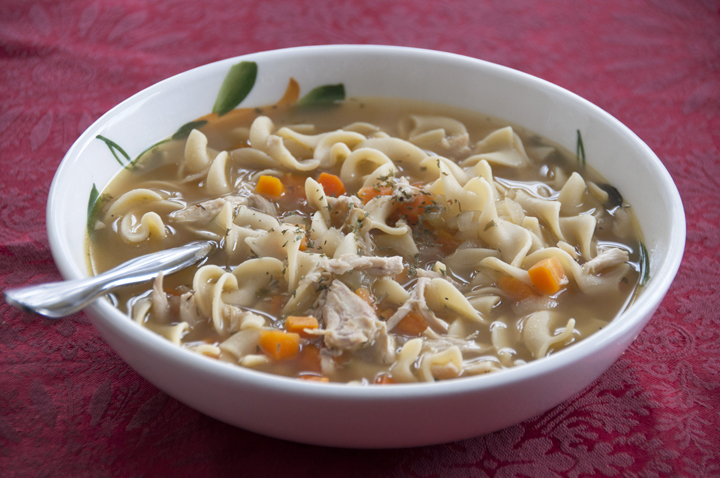 2 tablespoons extra-virgin olive oil
1 medium onion, chopped
3 garlic cloves, minced
2 medium carrots, cut diagonally into ½-inch-thick slices or diced
2 celery ribs, halved lengthwise, and cut into ½-inch-thick slices
4 fresh thyme sprigs
1 bay leaf
2 quarts chicken stock, store bought or homemade
8 ounces dried wide egg noodles
1½ cups shredded cooked chicken
salt and freshly ground black pepper, to taste
1 handful fresh flat-leaf parsley, finely chopped (or dried if that's all you have)
Place a soup pot over medium heat and coat with the oil.
Add the onion, garlic, carrots, celery, thyme and bay leaf.
Cook and stir for about 6 minutes, until the vegetables are softened but not browned.
Pour in the chicken stock and bring the liquid to a boil.
Add the noodles and simmer for 5 minutes until tender.
Fold in the chicken, and continue to simmer for another couple of minutes to heat through; season with salt and pepper.
Sprinkle with chopped parsley before serving.
Recipe by
Wishes and Dishes
at https://wishesndishes.com/homemade-chicken-noodle-soup/