Crock Pot Chicken and Dumplings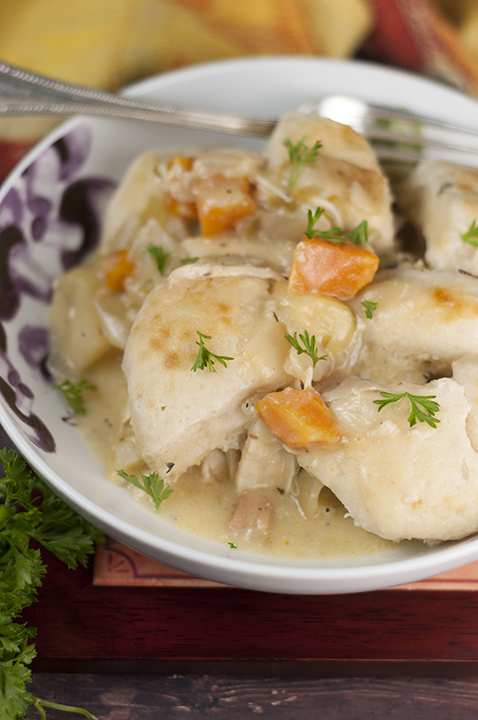 4 Chicken Breasts (boneless, skinless)
2 Tablespoons Butter
1 Can Cream of Chicken Soup
1 Can Cream of Celery Soup
3½ Cups Chicken Broth
1 cup white or yellow Onion, diced
1 Cup Celery, diced
1 Cup Carrots, diced
2 Chicken bouillon cubes
2 cloves of garlic, minced
1 Tsp ground black pepper
1 tsp dried thyme
1 10 oz. can of refrigerated biscuits*
Add everything into the crock pot/slow cooker with the exception of the biscuits.
Cook on low for about 6 hours. (If your crock pot cooks hot, check it at 5 hours or have it automatically turn to warm if you know your crock pot cooks food more quickly than normal). About an hour (give or take) before serving, remove chicken and pull into pieces with two forks (large chunks are fine) and return to the soup mixture.
Tear raw biscuits in half or quarters (depending on size) and add on top of the soup mixture for 45 minutes before serving and put the lid back ON so the biscuits will cook through and steam.
After 45 minutes they should have fluffed and expanded from the heat. Make sure they are not doughy in the center when ready to serve and serve hot!
Recipe by
Wishes and Dishes
at https://wishesndishes.com/crock-pot-chicken-and-dumplings/