Red Velvet Cheesecake Brownies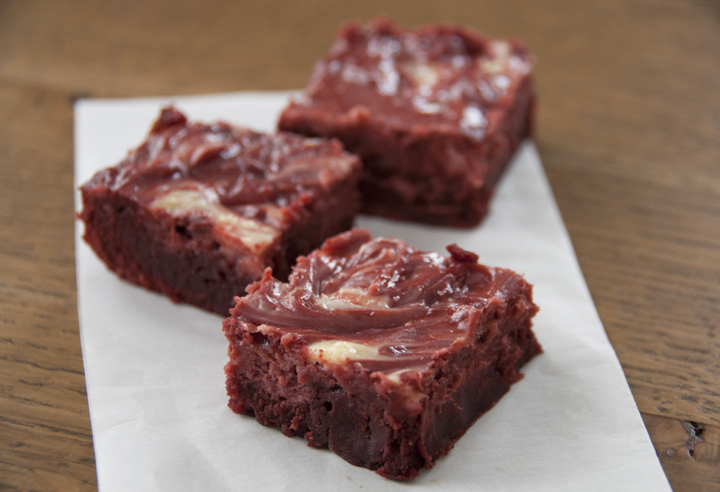 2 large eggs
½ cup (1 stick or 115g) unsalted butter
1 cup (200g) granulated sugar
2 teaspoons vanilla extract
¼ cup (32g) unsweetened cocoa powder
⅛ teaspoon salt
1 Tablespoon red food coloring (liquid or gel)
¾ teaspoon white vinegar
¾ cup (95g) all-purpose flour
8 ounces (224g) cream cheese, softened
¼ cup (50g) sugar
1 egg yolk
½ teaspoon vanilla extract
Preheat the oven to 350F degrees.
Spray 8x8 baking pan with nonstick spray. Set aside.
Make the brownie layer first. In a small bowl, beat the 2 eggs together. Set aside.
Melt the butter in a large microwave safe bowl in 30 second increments until melted.
Stir in 1 cup sugar, 2 teaspoons vanilla extract, cocoa powder, salt, food coloring, and vinegar. Mix each of those ingredients into the batter in that order.
Whisk in the eggs, then fold in the flour until completely incorporated. Do not over-mix or brownies will turn out tough!
Transfer the brownie batter into prepared baking pan, leaving about 3-4 Tablespoons of the batter for LATER - for the top (last step). Dough will be THICK so spread it evenly throughout the pan.
With a hand-held mixer on medium speed, beat the softened cream cheese, ¼ cup sugar, egg yolk, and ½ teaspoon vanilla in a medium bowl until completely smooth - about 1 minute.
Dollop spoonfuls of the cream cheese mixture on top of the prepared brownie batter.
Cover with the last few Tablespoons of brownie batter that you reserved from earlier (this step is pictured above).
Glide a knife through the layers, creating a swirl pattern. Don't go too crazy with the swirling so that you leave some white color on top.
Bake the brownies for 26-28 minutes (mine were done at 26) or until a toothpick inserted in the middle comes out clean.
Allow the brownies to cool completely before cutting into squares.
Cover brownies and store at room temperature for 3 days or in the refrigerator for up to 6 days. Brownies will freeze well, up to 2 months. Thaw overnight in the refrigerator.
Recipe by
Wishes and Dishes
at https://wishesndishes.com/red-velvet-cheesecake-brownies/