Creamy Broccoli Cheddar Soup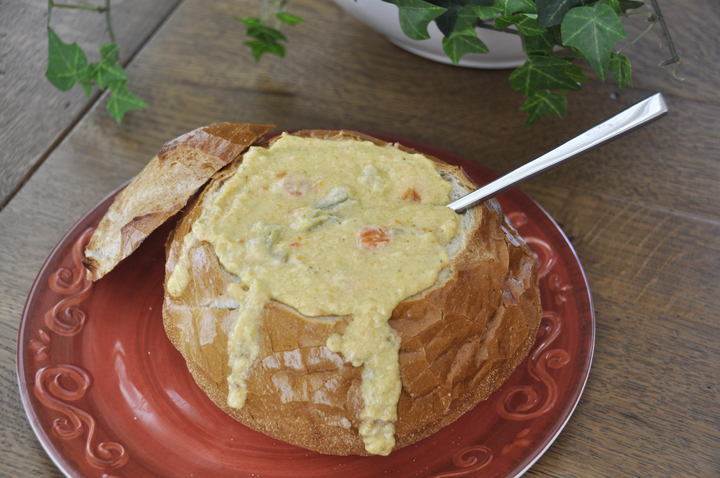 Recipe type:
Lunch, Dinner
1 tablespoon melted butter
½ medium chopped white onion
¼ cup melted butter
¼ cup flour
2 cups half-and-half cream
2 cups chicken stock (can use vegetable broth to make it vegetarian!)
½ lb fresh or frozen broccoli
1 cup carrot, sliced
¼ teaspoon nutmeg
8 ounces grated sharp cheddar cheese
salt and pepper, to taste
Melt the 1 tablespoon of butter in a pot over medium heat and sauté the onion in it.
Set the onions aside.
Melt the ¼ cup butter in the same pot and then add flour and stir together using a whisk over medium heat for 3-5 minutes.
Stir constantly to prevent burning and then add the half & half.
Add the chicken stock. Simmer for 20 minutes.
Add the broccoli, carrots and cooked onions. Cook over low heat for 20-25 minutes.
Add salt and pepper, to taste.
At this point, the soup can be puréed in a blender, but you don't have to. I did puree half of it so that half was smooth and some chunks of broccoli and carrots remain. (Note: be cautious putting hot liquids in the blender – it expands from the steam! Only do a SMALL amount at a time and hold a dish towel over the top while blending just in case OR wait until it cools before blending then reheat afterward! Use an immersion blender if you have one – that would be easier.)
Return soup to heat and stir in the cheddar cheese.
Stir in nutmeg.
Once all is hot and blended, serve in regular bowls or bread bowls. Enjoy!
Recipe by
Wishes and Dishes
at https://wishesndishes.com/creamy-broccoli-cheddar-soup/