Christmas "Grinch" Lime Sherbet Punch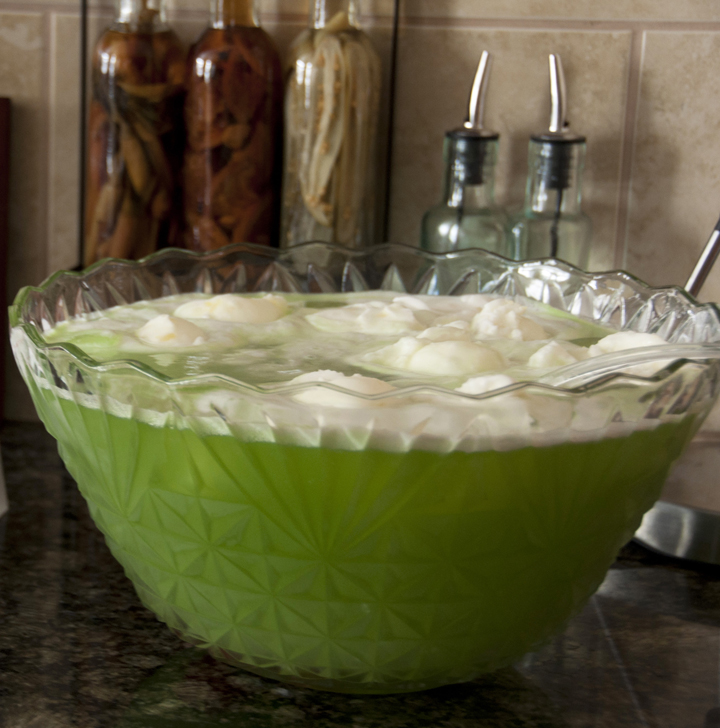 Serves:
15-20, two punch bowls
2 quarts lime sherbet*
2 liters Sprite, 7-Up or Ginger Ale
1 gallon green Hawaiian punch
1 (46-ounce) can pineapple juice
Maraschino cherries or frozen strawberries, optional, for a little red color
Pineapple sherbet, optional, to add to top for extra flavor and color (see photo)
Green food coloring if you want more color
LED light-changing ice cubes, to make punch glow at night
In a large punch bowl, add half of lime sherbet.
Pour half the Sprite/7-Up/Ginger Ale over the top and then add half of the pineapple juice and half of the Hawaiian Punch.
Add in cherries or strawberries, if using.
Add LED ice cubes and turn them on the green setting to make the punch glow green at night.
*If you can't find lime sherbet, substitute rainbow sherbet (and just use the green), pineapple, or lemon sherbet and add some green food coloring until you reach the green color you desire. You can also get creative and find other ways to make it green - green apple soda, green apple Crystal Light, green Powerade etc. Enjoy!
Recipe by
Wishes and Dishes
at https://wishesndishes.com/christmas-grinch-lime-sherbet-punch/