Toffee Almond Sandies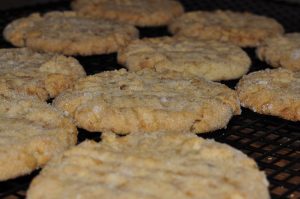 3½ cups all-purpose flour
1 cup all-purpose flour
1 teaspoon baking soda
1 teaspoon cream of tartar
1 teaspoon salt
1 cup (2 sticks) unsalted butter, softened
1 cup sugar
1 cup Confectioners' sugar
1 cup vegetable oil
2 large eggs
1 teaspoon almond extract
2 cups chopped almonds (walnuts also work!)
6 oz (about 1 heaping cup) English toffee bits (I used Heath brand)
Additional sugar
Set racks in middle of oven and preheat to 350 degrees. Line two baking sheets with parchment paper.
Combine all-purpose flour, whole wheat flour, baking soda, cream of tartar and salt in a medium bowl; mix well.
In the bowl of a mixer fitted with paddle attachment, cream butter, sugar and Confectioners' sugar until well combined, about 1-2 minutes.
Scrape down sides of bowl with spatula, then add oil, eggs and almond extract; mix well.
Add dry ingredients and mix slowly to combine.
Stir in almonds and toffee bits.
Shape dough into 1-inch balls, roll in sugar, then place about 2" apart on prepared baking sheets and flatten with a fork.
Bake, rotating sheets halfway through cooking, for 14-17 minutes or until lightly browned.
Let cookies cool on baking sheets for a few minutes, then transfer to wire rack to cool completely. Store in airtight container.