Chicken Avocado Spring Rolls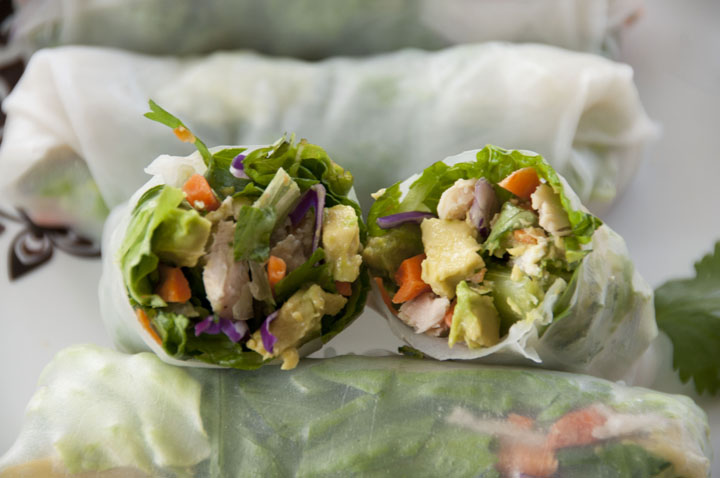 1 pound boneless skinless chicken breast (poached, grilled, baked, rotisserie, or leftover chicken works great)
1 ripe avocado, peeled and sliced thin
1 carrot, peeled and cut into thin strips
¼ head red cabbage, chopped (optional, but nice for color)
fresh cilantro, chopped, to taste
1 cup romaine lettuce, torn into pieces
rice paper spring rolls wrappers
½ cup sweet chili sauce
¼ cup rice vinegar
¼ cup canned coconut milk
3 tablespoons brown sugar
3 garlic cloves, pressed or finely minced
1 tablespoon creamy peanut butter
1 teaspoon-sized knob of ginger, grated (can also used ground ginger)
1 lime, juiced
½ tablespoon soy sauce
Combine chili sauce, vinegar, coconut milk, sugar, garlic, ginger, peanut butter, soy sauce and lime juice in a saucepan, whisking with a fork until combined.
Heat over medium heat until mixture comes to a bubble, let boil for 1 minute then reduce to low and let simmer for another 2-3 minutes. Set aside and let cool.
Working one at a time, wet rice paper for 10 seconds in a bowl of very warm water and then transfer to a clean,dry work surface.
Place lettuce in the center of each wrapper and top with cabbage, carrot, chicken, avocado, and sprinkle cilantro over the top. Bring the bottom edge of the wrap tightly over the filling, rolling from bottom to top until the top of the sheet is reached, being careful not to tear the rice paper (they tear easily!).
Repeat with remaining wrappers and filling. It helps to wet your fingers when rolling to prevent the wrapper from sticking to your fingers.
Serve with Thai dipping sauce or your choice of sauce!
Recipe by
Wishes and Dishes
at https://wishesndishes.com/chicken-avocado-spring-rolls-a-giveaway/