Sweet Potato Gnocchi with Sage Cream Sauce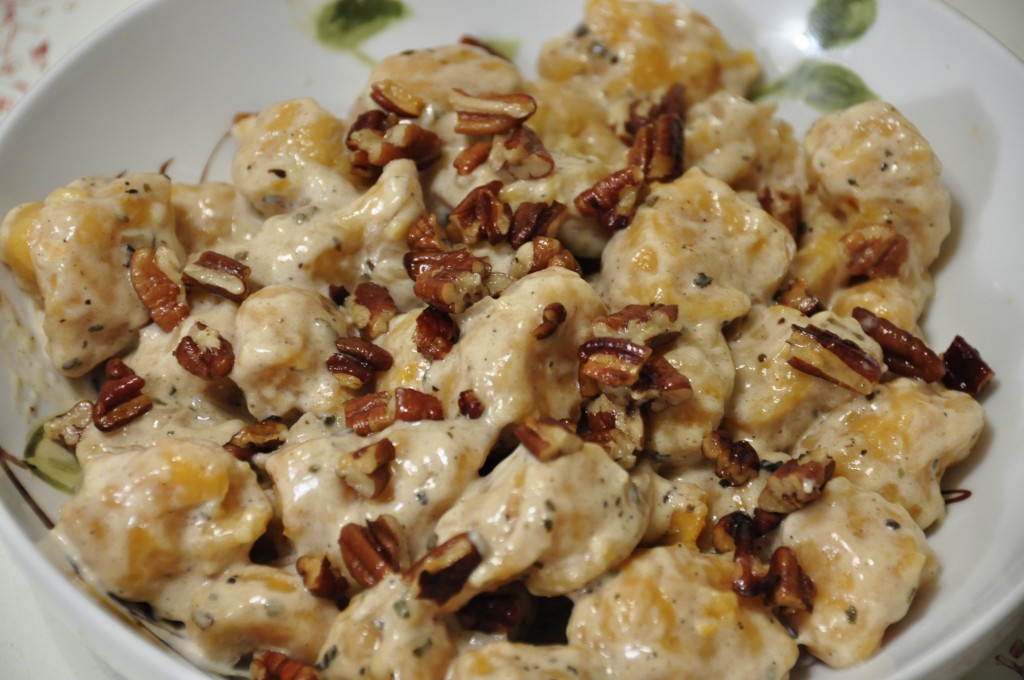 Sweet Potato Gnocchi
2 medium to large sweet potatoes, peeled
1½ – 2 cups all-purpose flour
1 egg, slightly beaten
Pinch of salt
Sage Cream Sauce
*I doubled the recipe, except for the sage*
1½ tablespoons butter
½ cup chopped pecans
⅓ cup finely chopped shallots or red onion
1½ tablespoons chopped fresh sage or 1½ teaspoons crumbled dried sage leaves
½ cup dry white wine
⅔ cup heavy cream
Gnocchi:
Boil a large pot of salted water. Meanwhile, peel and cut sweet potatoes into 2 inch cubes. Boil sweet potato cubes until tender (around 20 minutes) and remove from water into a bowl lined with a paper towel to drain. Allow potatoes to rest for a few minutes before transferring into a large bowl. Mash potatoes with a large fork or potato masher until smooth, then move to the refrigerator for around 30 minutes to cool.
Once sweet potato mash has cooled, remove from fridge and mix in egg. Add flour, a quarter cup at a time, until a very soft but manageable dough forms (2 cups was about right for my 2 large sweet potatoes).
Pull out about a handful of dough at a time. On a well-floured surface roll dough into a long snake, maybe a ½ inch thick, and chop dough into half inch sections. Roll each gnocchi over the tines of a fork to create classic ridges (or if you're lazy, simply press the fork tines into the top of the gnocchi, or leave this step out altogether like I did). Make sure you do not stack gnocchi on top of each other as they will stick together! Here's a good time to make your sauce (recipe below).
Bring a large pot of water to a simmer, NOT a boil, and drop in a handful of gnocchi. Scoop out with a slotted spoon when they float and drop into prepared sauce.
Sage Cream Sauce:
Meanwhile, melt butter in heavy medium skillet over medium heat. Add pecans and stir until slightly darker and fragrant, about 3 minutes.
Using slotted spoon, transfer pecans to small bowl.
Add shallots and sage to same skillet.
Sauté until fragrant, about 30 seconds. Add wine and cream. Increase heat and boil until sauce is somewhat reduced, about 10 minutes.
Season with salt and pepper.
Add in gnocchi and top with pecans.
Leftover dough:
Form any remaining dough into gnocchi shape, then place on a pan in the freezer. Once gnocchi are frozen remove from pan and store in a plastic freezer bag. When ready to bake later just pull out of the freezer and drop straight into simmering water.
Recipe by
Wishes and Dishes
at https://wishesndishes.com/sweet-potato-gnocchi-with-sage-cream-sauce/