Dark Chocolate Chip Skillet Cookie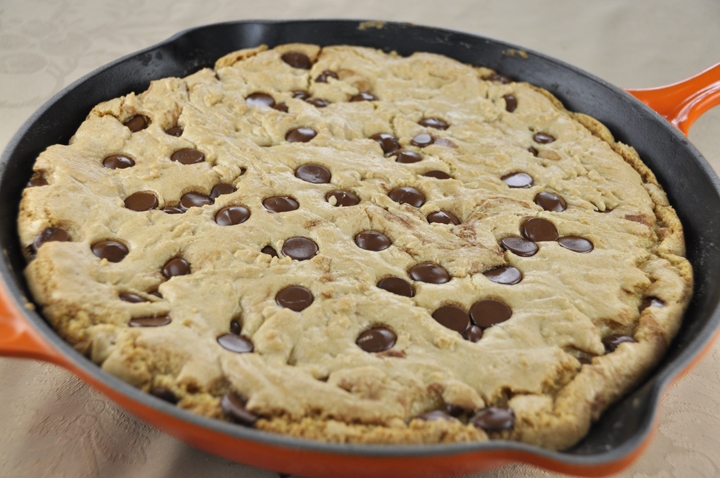 1 stick Unsalted Butter
½ cup Granulated Sugar
½ cup Light Brown Sugar
1 teaspoon Vanilla Extract
1 large Egg
1-½ cup All-purpose Flour
½ teaspoons Baking Soda
¼ teaspoons Salt
1 cup dark or Semi-sweet Chocolate, Cut In Chunks OR use semi-sweet or dark chocolate chips (I used the chips pictured above)
Preheat oven to 350 degrees F.
Melt butter in an 8 inch cast iron skillet (12 inch if you're doubling the recipe) and set over medium-low heat (or use other oven safe skillet).
Stir in sugars and vanilla and remove from heat. Let rest until pan is warm, but no longer very hot, about 15 minutes (you don't want the chocolate chips to start to melt when mixing in).
Crack an egg onto the butter and sugar mixture, and use a fork to whisk it into the mixture.
Place flour, baking soda, and salt on top, and very carefully stir into the mixture until smooth and well-mixed. It may take a few minutes to come together, but it will.
Stir in chocolate chunks. Place in the oven for 15-25 minutes, or until starting to turn golden on the top and around the edges, but still soft in the center. Mine was perfectly done right at 22 minutes (I always use a 12 inch skillet and double the recipe! For an 8 inch, check it starting at 15 minutes.).
Serve warm with vanilla ice cream on top!
Recipe by
Wishes and Dishes
at https://wishesndishes.com/dark-chocolate-chip-skillet-cookie/