Best Apple Crisp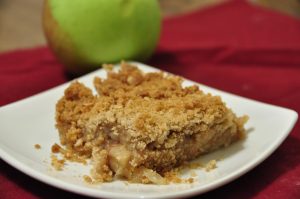 *Bake in an 8×8 baking dish or double the recipe and bake in a 9×13 dish*
Filling:5 to 6 medium-size apples, peeled, cored and cut into ¼-inch slices. (About 7.5 cups)
3 tablespoons granulated sugar
1.5 teaspoon cinnamon
Topping:
1⅓ cups all-purpose flour
1⅓ cups lightly packed brown sugar
½ teaspoon ground cinnamon
1 stick unsalted butter, well-softened
⅔ cup finely chopped pecans (optional)
⅓ cup quick oats
Preheat the oven to 350. Generously grease an 8×8 baking pan with butter.
Place a layer of apple slices in the bottom of the pan and dust with sugar/cinnamon mixture.
Continue layering apples and dusting with cinnamon/sugar until it is all used up. Toss the apple mixture until evenly coated in cinnamon sugar. The apples should be just about to the top of the pan (they will cook down).
For the topping, place the flour, brown sugar, nuts, cinnamon and oats in a large bowl and stir well with a wooden spoon. Work the butter into the mixture with your fingertips until evenly distributed. Take one full handful of the topping and toss it into the sugared apple mixture. Spread the rest of the topping evenly over the apples.
Bake the crisp in the dish on a baking sheet on the center oven rack until the topping is crunchy and the apples are bubbling -- about 55-60 minutes.
Serve warm with vanilla ice cream!