Beef and Potato Empanadas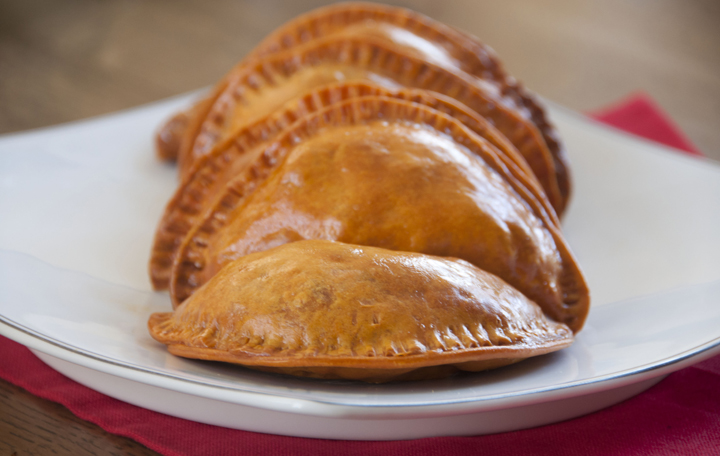 1 and ½ of the 14oz. packages of (10) frozen ORANGE Goya discs, defrosted (I use about 1 pack and a half for the amount of filling)
1 lb of ground beef
1 Tablespoon olive oil
Sazon con Asafron seasoning packet (Goya) (1 packet per 1 lb of beef)
3 Tablespoons of Sofrito (homemade or store bought - I used Goya frozen Sofrito)*
1 medium size baking potato, peeled and diced into ¼ inch cubes
1 teaspoon minced garlic
1 small can (8 oz) of tomato sauce (I used Hunt's)
1 egg, beaten (to brush tops of empanadas with)
Preheat oven to 350 degrees. Spray baking sheet(s) with non-stick cooking spray.
Heat olive oil in a large skillet over medium heat and saute the sofrito and minced garlic in the olive oil. Add ground beef and potatoes, stir and break up meat with a wooden spoon, cook until beef is cooked through and potatoes are soft. This takes about 10 minutes.
Add in the tomato sauce and the Sazon con Asafron seasoning packet to the skillet and stir. Lower heat to medium-low and simmer until mixture thickens a little, about another 10 minutes. Remove from heat.
On a lightly floured work surface, using a rolling pin, roll out the Goya wrappers until about ½-inch larger in diameter.
Stuff the Goya wrappers with about 2 heaping tablespoons (or a little more) of the filling. Moisten edges with water, fold in half to create a half moon and seal shells well by crimping with a fork (or use a dough press if you have one) so that they don't separate while cooking. Repeat until all shells are completed.
Brush the tops of the empanadas with the egg wash before baking.
Bake at 350 for 40 minutes. Enjoy!
Recipe by
Wishes and Dishes
at https://wishesndishes.com/beef-potato-empanadas/