Pumpkin Butterscotch Cookies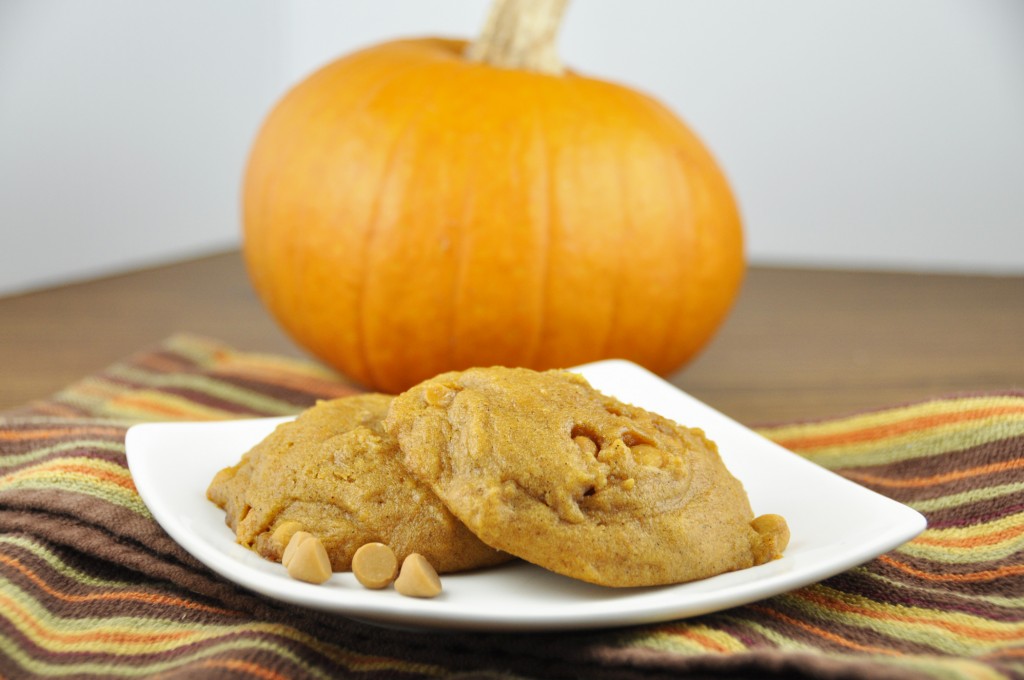 Serves:
2 dozen for smaller cookies, 1 dozen for large
2 cups all-purpose flour
1½ teaspoons baking powder
1 teaspoon soda
½ teaspoon salt
1 teaspoon ground cinnamon
2 eggs
1 cup sugar
½ cup canola or corn oil
1 cup of canned pumpkin
1 teaspoon vanilla extract
1 cup butterscotch baking chips
Preheat the oven to 325 degrees.
Line two baking sheets with parchment paper and butter the paper.
Stir the flour, baking powder, baking soda, salt and cinnamon together in a medium bowl and set aside.
In a large bowl, using an electric mixer on medium speed, beat the eggs and sugar until smooth and lightened in color, about 1 minute.
Stop the mixer and scrape the sides of the bowl as needed during mixing.
On low speed, mix the oil, pumpkin, and vanilla until blended.
Mix in the flour mixture to incorporate it.
Mix in the chips. (Note: I chilled the dough at this point to make it easier to scoop.)
Using an ice cream scoop with a ¼-cup capacity (or use two tablespoons worth for smaller cookies), scoop the dough onto the prepared baking sheets, spacing the cookies at least 2½-inches apart. You could also simply use a ¼-cup measuring cup if you don't have a scoop.
Use a thin metal spatula to smooth and flatten the rounds.
Bake the cookies one sheet at a time until the tops feel firm and a toothpick inserted in the center comes out dry, about 16 minutes.
Cool them on the baking sheet for 5 minutes, then use a metal spatula to transfer the cookies to a wire rack to cool completely.
Optional: dust the cooled cookies lightly with powdered sugar.
The cookies can be stored in a tightly covered container at room temperature for up to 4 days.
Recipe by
Wishes and Dishes
at https://wishesndishes.com/pumpkin-butterscotch-cookies/