Crunchy Asian Slaw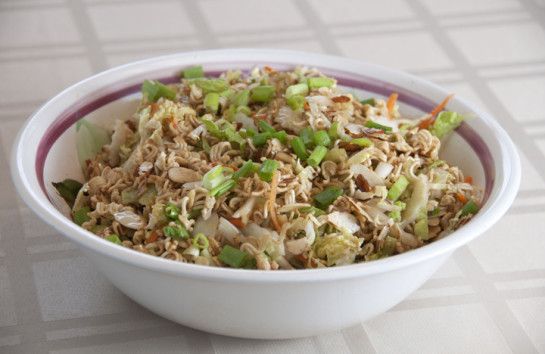 1 (16 oz.) bag cole slaw mix
1 bunch green onions, chopped
3 packages beef flavored Ramen noodles
1 cup sliced almonds
¼ cup butter, melted
½ cup granulated sugar
½ cup olive oil
1 tsp. Worcestershire sauce
¼ cup red wine vinegar
Preheat oven to 350 degrees.
Open packages of Ramen noodles. Put aside the seasong packets (you will use them later). Break up the noodles into bite size pieces and place into a medium size bowl. Toss in sliced almonds and stir together to combine.
Mix together melted butter with TWO of the packets of Ramen noodle seasoning mix. Pour this over the Ramen noodles and almond mixture and stir well. Make sure noodles and almonds are well coated.
Spread onto a baking sheet and bake for 10-12 minutes, until golden brown. Remove from oven and cool.
Place cole slaw in food processor (small batches at a time) to chop it up into smaller pieces. A couple of pulses should do the trick. (This step is optional to make it so you're not eating huge pieces of cabbage).
Put cole slaw mix in a large bowl and add your chopped green onions.
Once noodles and almonds are cool, add those to the bowl as well and give it a good mix. I used my hands for this.
For the dressing, whisk together the sugar, oil, Worcestershire sauce, red wine vinegar, and the remaining packet of Ramen noodle seasoning. Pour over cole slaw mix and stir well. Serve immediately.
!*If you would like the noodles to remain crunchy, don't add the dressing until right before serving. The taste will be great whether you do it ahead of time or not, but the noodles won't be as crunchy if you toss it with the dressing ahead of time. It's all a matter of preference, but it's good both ways!