Apple Cider Bread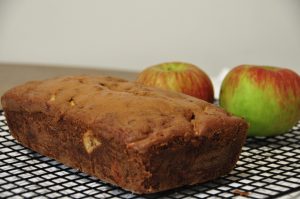 2 cups all-purpose flour
1 teaspoon baking powder
1 teaspoon salt
1 teaspoon baking soda
1 teaspoon ground cinnamon
½ teaspoon ground cloves
¼ cup butter, at room temperature
⅔ cup granulated white sugar
⅓ cup light brown sugar, packed
2 large eggs
½ cup apple cider
2¼ cups chopped apples, peeled and cored (I used Granny Smith apples. Gala apples would also work)
1 tablespoon freshly squeezed lemon juice
Preheat oven to 350 degrees F.
Grease and flour loaf pan.
Sift dry ingredients (flour through cloves) into a medium bowl.
In a large bowl, use an electric mixer to cream together butter and both sugars.
Beat in eggs.
Add in flour mixture alternately with cider, about half at a time, and mix just until combined.
In a small bowl, toss apples with lemon juice. Stir into the batter.
Pour batter into the prepared pan.
Bake 50 to 60 minutes, or until a toothpick inserted into the center comes out clean.
Let cool for at least 20 minutes, then remove to a wire rack and let cool completely.