Southern Buttermilk Biscuits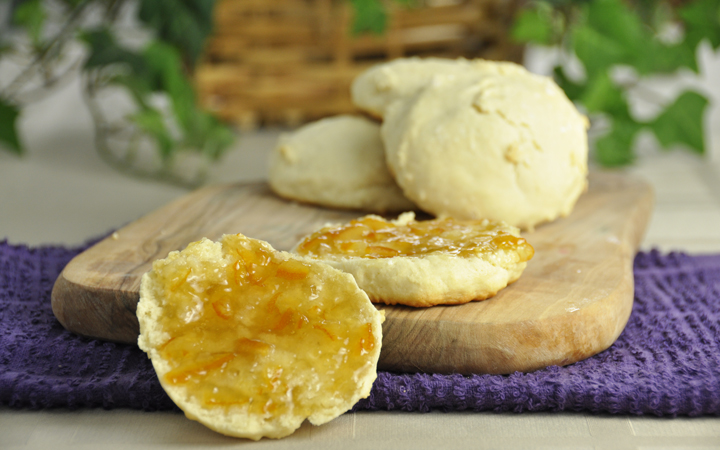 2 cups unbleached all-purpose flour, plus more for dusting the board/counter
¼ teaspoon baking soda
1 tablespoon baking powder
1 teaspoon kosher salt (or other fine salt)
6 tablespoons unsalted butter, very cold
1 cup cold buttermilk
⅓ cup orange marmalade
1½ teaspoons honey
Preheat your oven to 450°F.
Combine the dry ingredients in a bowl, or in the bowl of a food processor. Cut the butter into chunks and cut into the flour until it resembles course meal. If using a food processor (ingredients will stay colder and less chance of over-mixing this way), just pulse a few times until this consistency is achieved. Add the buttermilk and mix JUST until combined. If it appears on the dry side, add a bit more buttermilk. Dough should be very wet.
Turn the dough out onto a very well-floured board or counter. Gently PAT (do NOT roll with a rolling pin) the dough out until it's about ½" thick. Fold the dough about 5 times, gently press the dough down to a 1 inch thick. Use a round biscuit cutter (mine was 2⅝ inch) to cut into rounds. You can gently knead the scraps together and make a few more. The dough must be handled as little as possible or you will have tough biscuits.
Place the biscuits on a cookie sheet- to keep them soft, have them touching each other on the sheet. If you like more crisp sides, put them about 1 inch apart (like I did), but these will not rise as high as the biscuits put close together. Bake for about 10-12 minutes- the biscuits will be a beautiful light golden brown on top and bottom. Do not over-bake!
Recipe by
Wishes and Dishes
at https://wishesndishes.com/southern-buttermilk-biscuits-and-a-giveaway/