Thai Chicken Quinoa Bowl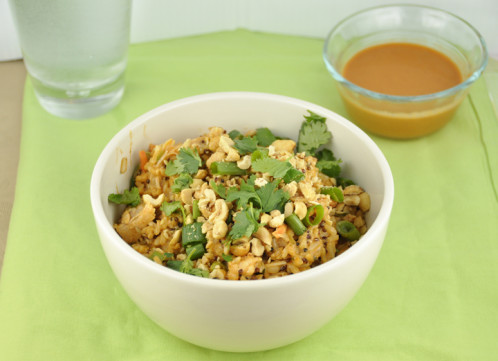 Recipe type:
dinner, lunch
½ cup uncooked quinoa, rinsed
1 chicken breast, cooked and shredded
⅓ cup chopped carrots
⅓ cup shelled edamame, optional
⅓ cup chopped green onions
¼ cup chopped peanuts
¼ cup freshly chopped cilantro
2 tablespoons sweet chili sauce
1 tablespoon rice vinegar
1 tablespoon canned coconut milk
½ tablespoon brown sugar
1 teaspoon creamy peanut butter, melted
1 garlic clove
½ lime, juice
⅛ teaspoon ground ginger
Prepare quinoa according to directions, which will most likely call for 1 cup of liquid. I used low-sodium chicken stock.
While quinoa is cooking, combine all of the sauce ingredients together in a bowl and whisk well to combine. Once quinoa has absorbed all of the liquid, stir in the sauce and toss well to coat. Add in chicken, carrots, edamame and green onions; stir to combine. Season with a little salt and pepper. Toss in half of the peanuts and cilantro, then serve in a large bowl. Top with remaining peanuts and cilantro. Serve with soup, salad, sandwich or any other side dish!