Garlic Smashed Potatoes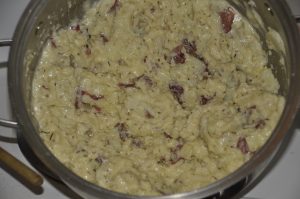 2 pounds red bliss potatoes, cut in half
6-8 cloves garlic
3 sprigs fresh thyme, leaves picked
3 sprigs fresh rosemary, leaves finely chopped
¼ cup olive oil
1 cup heavy cream
1 stick unsalted butter
To taste: salt and freshly ground black pepper
In large stockpot, drop in potatoes and garlic cloves, cover with water.
Bring the water to a boil and let boil for about 20-30 minutes or until the potatoes are fork tender.
Strain the potatoes into a colander and set aside.
Meanwhile, put the cream, butter and oil into the stockpot.
Bring that mixture to a boil, and put the potatoes back into the pot with the fresh herbs, then smash with a potato masher and season to taste.
(Adjust consistency with additional heavy cream or milk if needed).