Loaded Pancake Muffins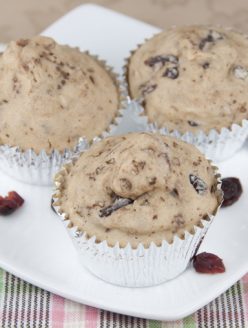 1 cup Pancake Mix (Bisquick, etc.)
¾ cups Water
½ cup chopped Walnuts
½ cup Craisins (or dried fruit of your choice)
½ cup Chocolate Chips (I used Ghiradelli dark chocolate)
Muffin liners and Muffin Pan
Preheat oven to 375 degrees.
Line muffin pan with 6 muffin liners in the middle rows.
Combine pancake mix with water, stir, but don't over mix.
Add in remaining ingredients and stir.
Evenly divide mixture into muffin cups and bake for 15 minutes.
Insert a toothpick in the center of one and if it comes out clean, you're ready to enjoy! Mine took exactly 15 minutes.