Crispy Baked Pork Spring Rolls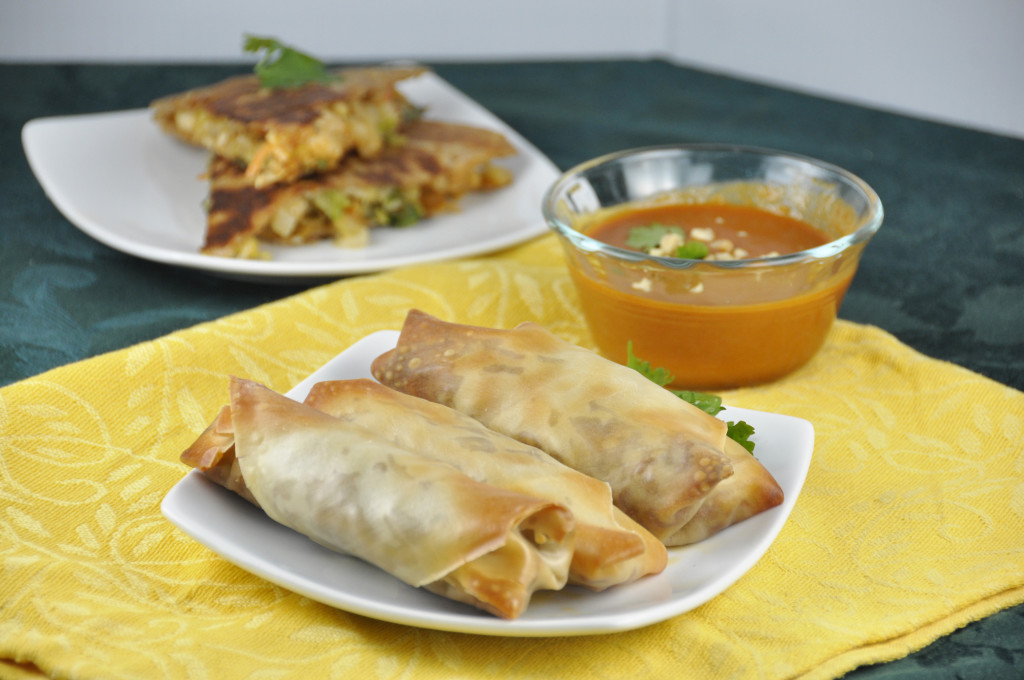 Recipe type:
Dinner, Appetizer
1 Tablespoon minced garlic
2 teaspoons minced fresh ginger or 1 teaspoon dry ground ginger
1 teaspoon sesame oil
1 Tablespoon olive oil, plus more for brushing on rolls
1 pound ground pork
1 cup finely shredded green cabbage
¼ cup finely shredded carrot
2 green onions, thinly sliced
2 Tablespoons store-bought Hoisin sauce
12 square (7-inch) spring roll wrappers
Sweet and sour sauce, for dipping (or make sauce recipe below)
½ cup sweet chili sauce
¼ cup rice vinegar
¼ cup canned coconut milk
3 tablespoons brown sugar
3 garlic cloves, pressed or finely minced
1 tablespoon creamy peanut butter
1 teaspoon-sized knob of ginger, grated
1 lime, juiced
½ tablespoon soy sauce
Preheat the oven to 425ºF.
Sauté the garlic and ginger in the sesame and olive oils in large sauté pan set over medium-low heat.
Add the ground pork to the pan, breaking it apart into small pieces, and sauté until fully cooked.
Remove the pan from the heat and drain out any liquid. Stir in the green cabbage, green onions, carrots and hoisin sauce until thoroughly combined. Transfer the mixture to a large bowl and let it cool for 10 minutes.
Arrange the spring roll wrappers on a dry work surface then place 3 to 4 tablespoons of the pork mixture in the center of each of the spring roll wrappers. Roll the wrappers around the mixture, folding the edges inward. Before your final fold, dip your fingers in water and then moisten the outer edge of the wrapper to seal the spring roll shut. Roll them tightly to prevent bursting in the oven.
Arrange the spring rolls in a single layer on a baking sheet lined with parchment paper or a Silpat nonstick baking mat. Brush the tops of the rolls with olive oil then bake in the preheated oven 20 minutes, until golden brown and crispy. For crispier spring rolls, turn after 10 minutes (keep an eye on them as different ovens tend to cook things faster/slower). If they aren't crispy enough, leave them in a little longer. Remove the spring rolls from the oven and serve them immediately with your dipping sauce of choice (sweet and sour sauce, soy sauce, or dipping sauce I mentioned above).
Combine chili sauce, vinegar, coconut milk, sugar, garlic, ginger, peanut butter, soy sauce and lime juice in a saucepan, whisking with a fork until combined. Heat over medium heat until mixture comes to a bubble, let boil for 1 minute then reduce to low and let simmer for another 2-3 minutes. Set aside and let cool.
Recipe by
Wishes and Dishes
at https://wishesndishes.com/crispy-baked-pork-spring-rolls/