Old-Fashioned Blackberry Cobbler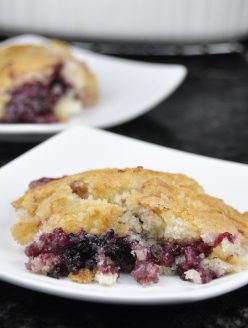 1 stick Butter
1 and ¼ cup Sugar, divided
1 cup Self-Rising Flour*
1 cup Milk
2 cups Blackberries (frozen OR fresh)
Melt butter in a microwavable dish.
Pour 1 cup of the sugar and flour into a mixing bowl, whisking in milk. Mix well.
Pour in melted butter and whisk it all well together.
Butter a baking dish (I used my 1.5 quart Corningware dish).
Rinse and pat dry the blackberries. Pour the batter into the buttered baking dish.
Sprinkle blackberries over the top of the batter; distributing evenly.
Sprinkle ¼ cup sugar over the top.
Bake in the oven at 350 degrees for 1 hour, or until golden and bubbly on top.
Serve with whipped cream or vanilla ice cream on top, if desired.
Recipe by
Wishes and Dishes
at https://wishesndishes.com/blackberry-cobbler/