Biscoff-Glazed Soft Oatmeal Cookies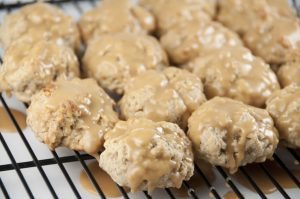 Cookies:
2 cups quick-cook (1-minute) oats
½ tsp. baking soda
½ tsp. cinnamon
½ tsp. kosher salt
1 & ½ cups all-purpose flour
½ (1 stick) cup salted butter
2 TBSP vegetable oil
1 cup light brown sugar
1 egg
6 TBSP plain Greek yogurt (2% or full-fat)
2 tsp. vanilla extract
Glaze:
¼ cup Biscoff Spread
¼ cup milk
1 & ½ cups powdered sugar, sifted
2 teaspoons light corn syrup
Whisk together the oats, baking soda, cinnamon, salt and flour. Set aside.
In a large bowl, cream together the butter, oil and sugar. Add the egg, beating until fluffy. Beat in the yogurt and vanilla, scraping down sides of bowl as needed.
Add in the flour mixture in three additions; beat on low just until incorporated. Let the dough rest for 30 minutes.
Preheat the oven to 350. Line cookie sheets with parchment paper.
Use a two tablespoon cookie scoop to place the dough onto the prepared sheets. Bake for 12-14 minutes or until light brown.
Transfer to a wire rack to cool.
While the cookies are cooling, make the glaze. Whisk together all of the glaze ingredients until smooth. If the glaze looks a little too thin, add more powdered sugar. If it looks too thick, stir in a little more milk. You may omit the corn syrup, but it does add a nice shine.
Put the cookies close together on a wire rack and place the rack over a parchment-lined cookie sheet. Pour the glaze over the cookies. The glaze will spread and smooth; and after about 30 minutes, will set.
Recipe by
Wishes and Dishes
at https://wishesndishes.com/biscoff-glazed-soft-oatmeal-cookies/