3 Ingredient Homemade Butterfingers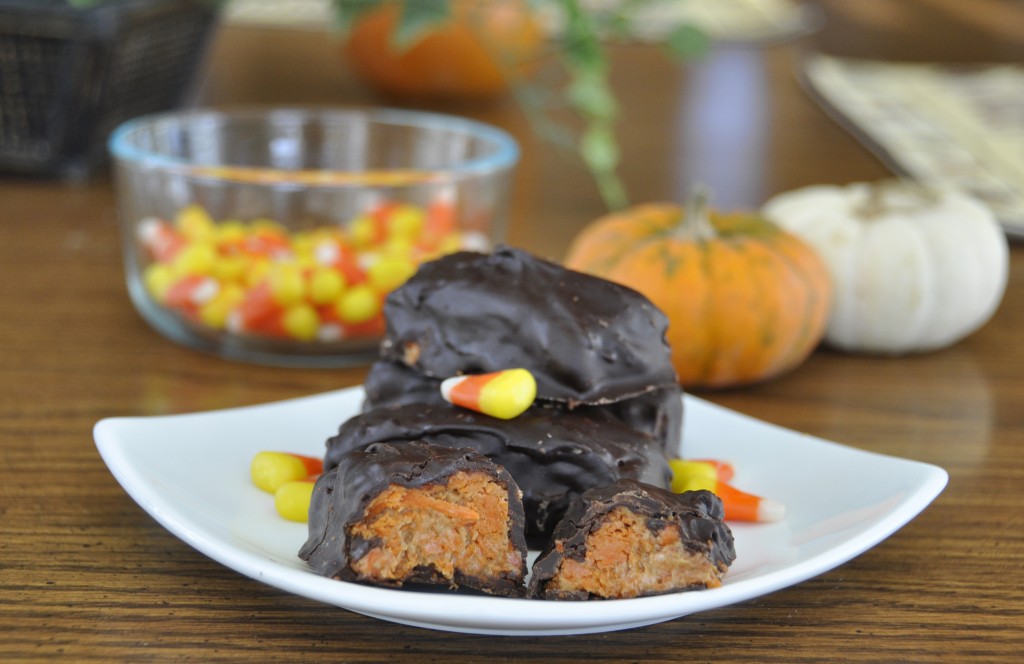 16 ounces, weight Candy Corn
16 ounces, weight Creamy Peanut Butter
3 cups Milk Or Dark Chocolate
Line an 8×8 or 9×9 inch pan with wax paper.
Melt the candy corn in the microwave in a medium bowl, stirring every 30 seconds. Continue heating in 30 seconds increments, stirring in between, until completely melted and smooth. Stir in the peanut butter until equally distributed and smooth. Pour into prepared pan and smooth. Place in the freezer for 10-20 minutes until firm.
In the meantime line a large baking sheet with wax paper.
Take the chilled bars out of the pan and cut them into mini Butterfinger size bars. Any size you want is fine!
Melt the chocolate in a medium bowl in the microwave stirring every 30 seconds and continuing to heat for additional 30 second bursts until smooth.
Using a fork, dip each Butterfinger into the chocolate, turning to cover completely. Take the bar out of chocolate with fork and tap lightly on the side of the bowl so that excess chocolate falls off. Place on the wax paper lined baking sheet. Continue with Butterfingers until all are dipped. (If at any point your chocolate becomes too hard to dip, simply return it to the microwave and heat for another 10-15 seconds and stir. Do this throughout the process as needed.)
When all bars have been dipped, place them in the freezer for an additional 5-10 minutes. Serve cooled from the 'fridge or at room temperature!
Recipe by
Wishes and Dishes
at https://wishesndishes.com/3-ingredient-homemade-butterfingers/