Baked Pasta with Chicken Sausage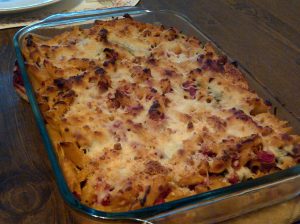 1 tablespoon olive oil
1 medium red onion, chopped
4 cloves garlic, minced 1 (14.5 oz.) can diced tomatoes
1 (14.5 oz.) can crushed tomatoes
½ teaspoon dried oregano
½ teaspoon dried basil
½ cup heavy cream
1 pound rigatoni
10 ounces frozen baby spinach, thawed and drained well (can substitute 1 9-oz. bag fresh spinach)
12 ounces precooked smoked chicken sausage, halved lengthwise and sliced ¼ inch thick
8 ounces mozzarella cheese, 4 ounces cut into ½-inch cubes and 4 ounces shredded
¼ cup grated Parmesan cheese
Bring a large pot of salted water to a boil.
Heat oil in a large skillet over medium heat.
Add onion; cook until translucent, about 3 minutes. Stir in garlic. Cook for another minute.
Stir in tomatoes, oregano and basil; simmer for 8-10 minutes.
Add cream; cook until warmed through, about 5 minutes.
Season sauce with salt and pepper, to taste.
Meanwhile, preheat oven to 400 degrees.
Cook pasta in the boiling water until al dente, according to package instructions. (If using fresh spinach, add it to the pot of boiling pasta right at the end and cook until wilted.)
Drain, and return contents to pot.
Add tomato sauce, sausage, spinach and cubed mozzarella to the pot; toss to coat.
Season with salt and pepper.
Scoop pasta into lightly greased 9×13-inch pan (or divide evenly between two 8X8-inch pans). Top with grated mozzarella and Parmesan.
Bake until browned and edges are crisp, 20 to 30 minutes.
Recipe by
Wishes and Dishes
at https://wishesndishes.com/baked-pasta-with-chicken-sausage/