Grandma's Italian Lasagna and a Memory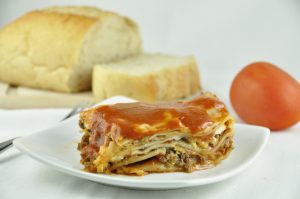 *What I'm sharing with you today is more of a method than an actual recipe. As far as the sauce goes, you can use your favorite recipe for spaghetti sauce. Grandma didn't use ricotta cheese in her lasagna which might be different than a lot of people are used to with Italian lasagna. After visiting Italy a while back, I realized the true Italians make lasagna without the ricotta cheese! Instead, they used hard-boiled eggs and ground beef. Grandma browned a pound of lean ground beef with a little water, and seasoned with salt and pepper. She hard-boiled 3 eggs and sliced them really thin and used them in the layering.*
1 lb. lasagna noodles
1.25 lb. ground beef
2.5-3 cups mozzarella cheese
3 eggs
tomato sauce (I probably used around 4 cups)
Hard boil eggs, peel, and crumble/cut up small.
Cook lasagna noodles until al dente. Drain and then rinse with cold water to stop the cooking process.
Brown ground beef with a little water, drain, and season with salt and pepper.
Preheat oven to 375 degrees.
Start by putting a layer of sauce on the bottom of a 9x13 pan or lasagna pan so noodles won't stick later on.
Add a layer of lasagna noodles (overlap a little bit, put different directions or break pieces if needed to cover entire pan), sauce (make sure the noodles are completely covered so they stay soft while baking, don't use too much sauce in the layering or you will get lasagna soup), ground beef, sliced/crumbled hard-boiled egg, Mozzarella cheese, little bit of sauce (drop small spoonfuls).
REPEAT. I had just enough ingredients to make 4 full layers of ingredients (4 actual noodle layers when all is said and done), then I ended with the next step below.
Make sure you END with a layer of noodles (this is included in the 4 layers I mentioned above), sauce and mozzarella cheese on the very top.
Cover with foil: to prevent sticking, either spray foil with cooking spray, or make sure the foil does not touch the cheese. Bake in preheated oven for 30-35 minutes. Remove foil, and bake an additional 20 minutes or until top is hot and bubbly. Watch so the cheese isn't burning.
Remove lasagna from the oven and allow to cool and set for 15-20 minutes before serving. I spooned a little warmed sauce over top of each piece.
Recipe by
Wishes and Dishes
at https://wishesndishes.com/grandmas-italian-lasagna-and-a-memory/