Apple Crostata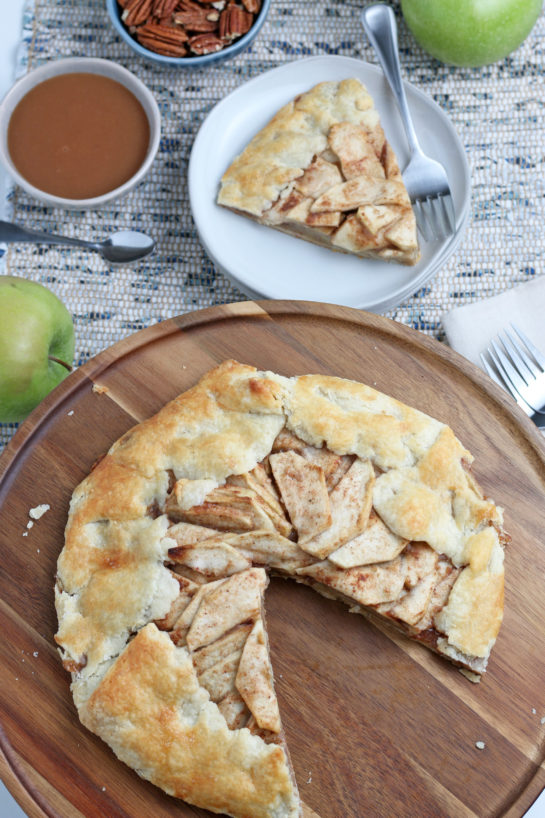 1 cup all-purpose flour
2 tablespoons granulated sugar
¼ teaspoon sea salt
½ cup (1 stick) COLD unsalted butter, cut into cubes
2 tablespoons ice cold water
4 cups (about 4) apples, peeled, cored and sliced
½ cup granulated sugar
4 tablespoons all-purpose flour
1 ½ teaspoons apple pie spice **see notes below
Caramel sauce, optional
Vanilla Ice Cream, optional
Preheat oven at 375 degrees F
In a medium mixing bowl, whisk together flour, sugar and salt
Cut butter into flour mixture until well combined into large crumbles using a pastry blender, fork or food processor
Add ice water a little at time until dough is moistened and comes together in a ball
Form into ball and flatten to round disk
Roll dough on floured surface with rolling pin to about 12 inches round
In a large mixing bowl, add your sliced apples
Sprinkle them with sugar and flour and toss to coat
Sprinkle with apple pie spice and, again, toss to coat
Pour apples evenly into the crust
Fold edges of dough over apple mixture, crimping the edges slightly.
Bake for 45-50 minutes, depending on your oven
Serve warm (preferably) with your favorite toppings: ice cream, caramel sauce, etc.
Enjoy!
If you don't have or can't find Apple Pie Spice, substitute 1 teaspoon ground cinnamon, ¼ teaspoon nutmeg and ¼ teaspoon allspice. Mix together.