Homemade Refried Beans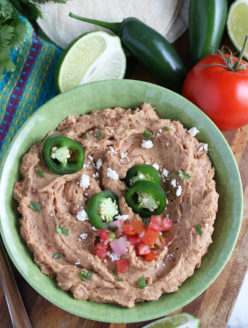 2 tablespoons olive oil
½ cup onion, finely chopped
3 cloves garlic, minced
1 teaspoon ground cumin
1 teaspoon chili powder
2 cans (15 oz each) pinto beans, rinsed and drained
½ cup vegetable stock or broth (can use chicken stock)
1 tablespoon fresh lime juice
In a medium saucepan, heat olive oil and cook onions until soft and translucent, approximately 5 minutes.
Add garlic, cumin and chili powder
Cook about 30 seconds or until garlic is fragrant
Add pinto beans and the broth/stock and stir to combine
Cover and cook over medium heat for about 5 minutes
Remove lid and reduce heat to low, mash beans using a potato masher or fork until desired consistency
Continue cooking for 3-5 minutes
Remove from heat and add lime juice
Add salt to taste, if desired
Serve immediately or store in airtight container in the refrigerator
Add a little water if the beans become a bit dry. Enjoy!