Overnight Breakfast Egg Casserole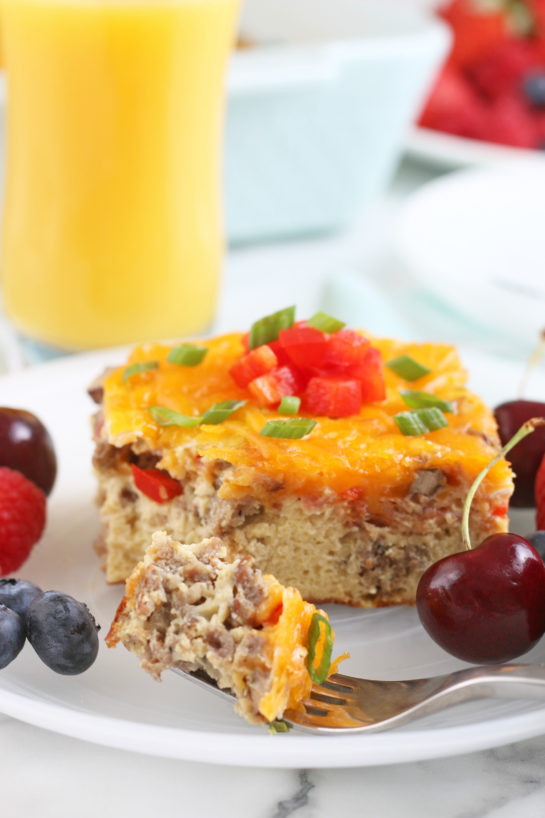 12 eggs
2 cups sharp cheddar cheese, shredded
½ cup green onions, sliced finely
½ cup red bell pepper, chopped
½ cup mushrooms, chopped
1 pound breakfast sausage
1 pound bacon, cooked and crumbled
2 cups milk
6 slices of bread, cubed
¼ teaspoon dry mustard
¼ teaspoon onion powder
¼ teaspoon garlic powder
¼ teaspoon paprika
½ teaspoon salt
½ teaspoon pepper
In a large skillet, cook sausage, drain and set aside.
In a large bowl mix together eggs, milk, salt, pepper, seasonings and green onion.
Cut bread into ½-1 inch cubes and add bread to a greased 9x13 baking pan. Top with sausage, bacon, peppers, mushrooms, and half the cheese.
Pour egg mixture over the top evenly. Sprinkle remaining cheese over the top.
Cover tightly with plastic wrap and refrigerate overnight.
Remove from the refrigerator and let sit out at room temperature for 30 minutes
Preheat oven to 350 degrees
Bake for 40-45 minutes, or until a toothpick comes out clean. Mine was done at just under 40.
Serve hot and top with your choice of garnish.
Garnish choices could be parsley, sour cream or any other delicious topping.
Recipe by
Wishes and Dishes
at https://wishesndishes.com/overnight-breakfast-egg-casserole/