Roasted Cauliflower Soup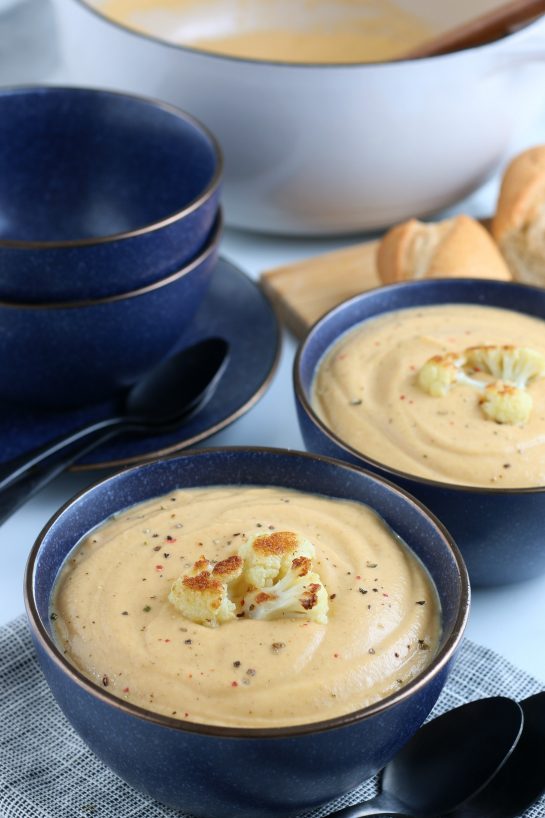 1 large head of cauliflower, cut into florets
1 yellow onion, diced
2 cloves of garlic, minced
3 tablespoons olive oil
4 cups vegetable broth (32 ounces)
½ cup heavy cream
1 teaspoon cumin
½ teaspoon coriander
Salt and pepper to taste
Preheat oven to 425 F.
Toss the cauliflower florets in 2 tablespoons olive oil until evenly coated.
Arrange cauliflower onto a baking sheet and sprinkle with salt and pepper.
Bake for 25-30 minutes, or until tender and caramelized on the edges, tossing halfway through.
In a dutch oven heat 1 tablespoon olive oil over medium heat.
Add onion, salt and pepper. Cook until onion is soft and translucent, 5-7 minutes.
Add in the garlic, cumin and coriander, cook for an additional 30 seconds, stirring constantly. Add in vegetable broth.
Set aside ¼ cup of the roasted cauliflower for garnish. The remaining will go in to the pot. Increase heat to a medium-high and bring to a simmer, cook 20 minutes.
Remove from heat and allow to cool for a few minutes.
Slowly pour mixture into a blender, you may need to blend in a couple batches. Blend until completely smooth.
Return to pot and stir in heavy cream.
Serve hot and top bowls with roasted cauliflower, and your choice of parsley, green onions or chives.