New England Clam Chowder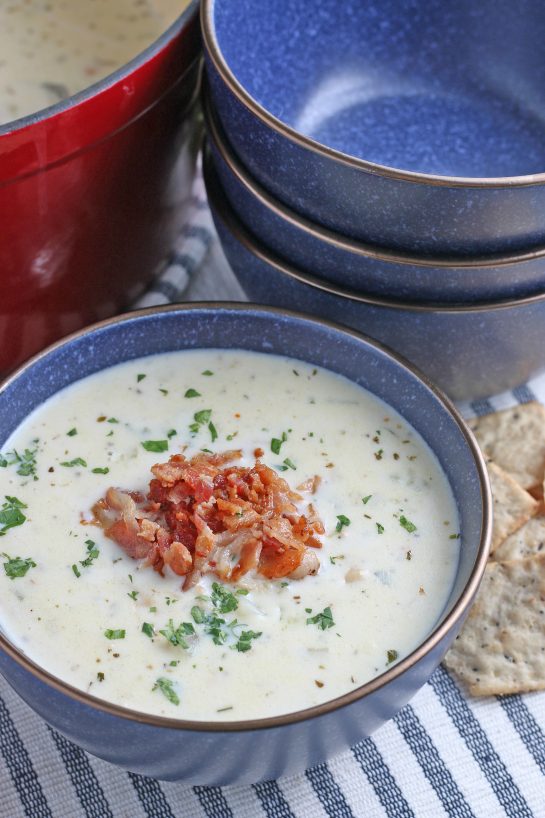 3 (6.5oz) cans of chopped clams, undrained
1 (8oz) bottle of clam juice
4 slices of cooked bacon, chopped
2 stalks of celery, chopped
½ small onion, chopped
1 clove of garlic, minced
4 small potatoes, peeled and cubed
⅓ cup flour
3 cups half and half
1 cup chicken broth
½ tsp dried parsley
½ tsp dried oregano
½ tsp salt
¼ tsp dried thyme
¼ tsp red pepper flakes
¼ tsp pepper
2 tsp chicken bouillon
2 tbsp butter
Drain the claim juice from the canned clams into a measuring cup. Add to it the bottle of clam juice, enough to make 2 ½ cups, and set aside.
In a dutch oven or heavy-bottomed pot over medium heat cook bacon so that the fat is rendered and it is slightly brown. Remove half of the bacon, and with the remaining bacon and dripping, melt 2 tablespoons butter.
Increase heat to medium-high and add in the celery and onion. Saute for 5-7 minutes or until onions are soft and translucent. Add potatoes, garlic, and red pepper flakes to the pot and cook for an additional 30 seconds.
Sprinkle in flour and cook for an additional 1 minute. Stir in chicken broth, clam juice, chicken bouillon and all seasonings.
Bring to a boil and then reduce to a simmer. Simmer, uncovered, for 15-20 minutes or until potatoes are very tender.
Stir in heavy cream and bring back to a simmer to heat through. Remove from heat and stir in clams.
You may top with reserved bacon, oyster crackers and fresh parsley if you desire.