Bacon Bourbon Meatballs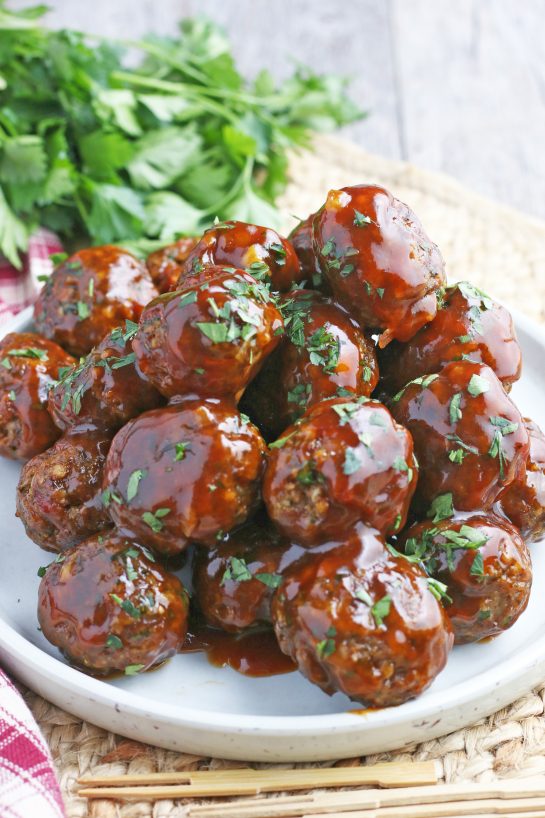 1 lb ground beef
½ lb bacon, cook and chopped
½ medium yellow onion, finely chopped
¼ cup parsley, chopped
½ cup breadcrumbs
1 large egg
1 teaspoon salt
1 teaspoon garlic powder
½ teaspoon pepper
½ teaspoon chili powder
⅓ cup ketchup
¼ cup bourbon
1 tablespoon worcestershire sauce
½ teaspoon salt
½ teaspoon garlic powder
¼ teaspoon smoked paprika
⅓ cup brown sugar
1 tablespoon yellow mustard
In a large skillet, cook ½ lb bacon over a medium-high heat until desired crispiness. Finely chop bacon and add to a large bowl with 1 lb ground beef.
Add onion, parsley, egg, breadcrumbs, and seasonings to meatball mixture and combine well with hands.
Form into balls and set aside. In a medium saucepan combine ketchup, bourbon, worcestershire sauce, mustard, brown sugar and seasonings. Cook over medium-high heat until boiling.
Reduce to a simmer and cook for about 10 minutes. Once finished remove for heat.
In a skillet heat 2 tablespoons olive oil and cook meatballs for 5-10 minutes rotating them occasionally, or until brown and crispy.
Remove from heat and toss meatballs in bourbon barbecue sauce
Preheat oven to 375 degrees, Line 2 cookie sheets with foil, spray with cooking spray.
Mix all ingredients until well blended, shape into balls.
Bake for 16 – 18 minutes approximately. Enjoy!