Italian Struffoli Honey Balls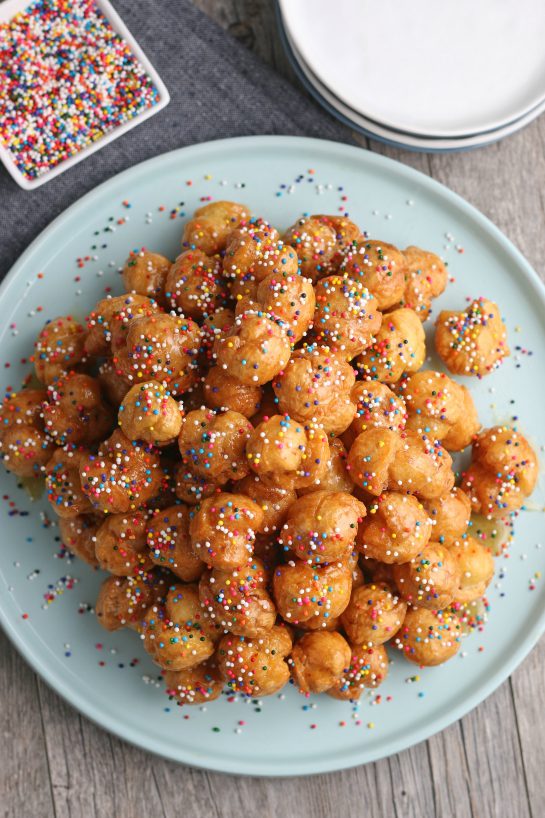 4 eggs
2 ¼ cups all-purpose flour
1 teaspoon vanilla extract, divided
¼ teaspoon coarse salt
Zest from 1 lemon
Zest from 1 orange
Canola oil, for frying
1 cup honey
½ to ¾ cups nonpareils sprinkles
In a large mixing bowl, add the eggs, flour, ½ teaspoon vanilla extract, salt, and citrus zest. Mix together using your hands until it forms a sticky dough.
Turn the dough out onto a lightly floured surface and knead the dough ball for 2 to 3 minutes.
Divide the dough into three equally sized amounts.
Roll the individual pieces into long ropes about ½-inch thick.
Cut the ropes into ¼ to ½ inch pieces and roll each piece into a small ball shape. Irregular sizes are normal and work fine.
Pour oil into a large, heavy-bottomed pan, enough to fill it about one third of the way. Heat the oil to 350 degrees F.
Then set up a tray lined with paper towels to absorb excess oil after cooking.
When the oil reaches 350 degrees F, carefully drop in the dough balls in small batches and fry until they puff and become golden brown on all sides.
Using a metal strainer, remove the fried dough and transfer to a paper towel-lined tray to drain. Continue until all dough balls are fried.
While the dough is frying in a small saucepan add the honey and ½ teaspoon of vanilla. Set to medium heat.
Stir occasionally and remove from heat once the mixture reaches a syrup-like consistency, about 5 minutes.
Add the still-warm fried dough balls to a large bowl. And pour the hot honey mixture and the nonpareils into the bowl and mix until covered.
Serve immediately or store in an airtight container for up to 2 days. Do not refrigerate! Enjoy!
Recipe by
Wishes and Dishes
at https://wishesndishes.com/italian-struffoli-honey-balls/