Banana Bread Brownies with Chocolate Peanut Butter Ganache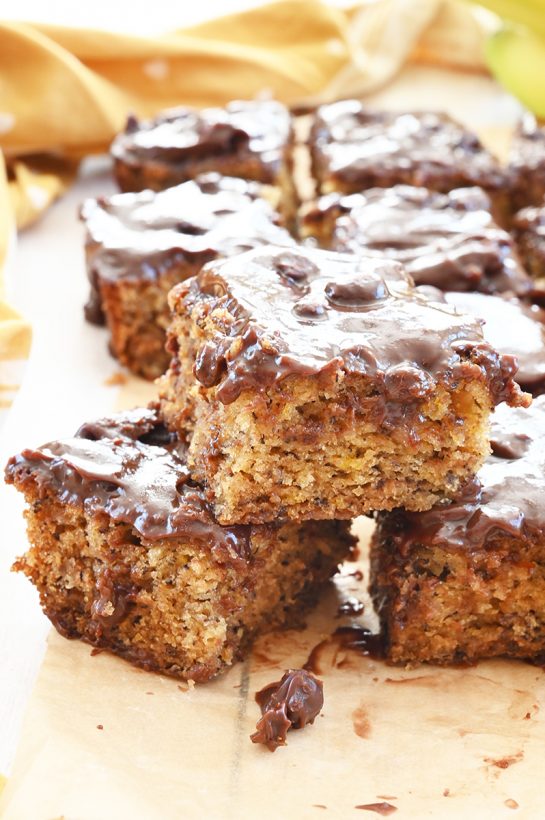 1 cup packed light brown sugar
2 large egg yolks
½ cup unsalted butter, melted, cooled to room temperature
1 teaspoon vanilla extract
2 large ripe bananas, mashed
1 cup all-purpose flour
½ teaspoon baking soda
¼ teaspoon salt
6 ounces semi-sweet chocolate chips
⅓ cup peanut butter
½ cup heavy cream
Preheat the oven to 350 degrees F.
Spray an 8×8-inch baking pan with nonstick spray.
In a mixing bowl, whisk together the brown sugar and egg yolks until smooth.
Slowly pour in the melted butter and vanilla; whisk until combined.
Stir in the mashed bananas.
Add the flour, baking soda, and salt, stirring until a thicker batter comes together.
Pour the batter into the prepared pan.
Bake for 30 - 35 minutes, or until the bars seem set in the center and are slightly golden.. Remove from oven and let cool.
Combine the chocolate and peanut butter to a large bowl.
Heat the heavy cream in a saucepan over medium heat until it is hot but not boiling OR simply heat it in the microwave.
Remove it from the heat and pour it over the chocolate and peanut butter.
Allow it to sit for a few minutes, then stir continuously until chocolate completely melts & ganache forms.
Allow the ganache to cool for a few minutes before pouring it over the bars. Enjoy!
Recipe by
Wishes and Dishes
at https://wishesndishes.com/banana-bread-brownies-chocolate-peanut-butter-ganache/