Pumpkin Cheesecake Bars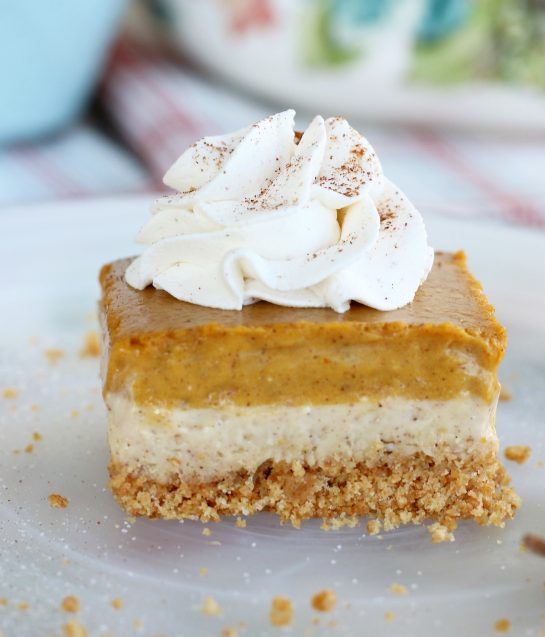 2 cups graham cracker crumbs
3 tablespoons sugar
6 tablespoons butter, melted
3 packages (8 oz) cream cheese, softened
1 cup sugar
1 teaspoon ground cinnamon
1 teaspoon ground ginger
½ teaspoon ground cloves
4 eggs
1 can (15 oz) pumpkin puree, NOT pumpkin pie filling
½ teaspoon ground nutmeg
1 teaspoon pumpkin pie spice
2 cups heavy whipping cream
½ cup powdered sugar
2 teaspoons ground cinnamon
Preheat oven to 350 degrees
In a medium bowl, combine crumbs, sugar and butter until well combined
Press evenly on bottom of 9x13 baking dish
Bake for 15-20 minutes or until golden brown
Remove from oven and chill in refrigerator for at least 30 minutes.
Preheat oven to 325 degrees
In a large mixing bowl, combine cream cheese, sugar, spices and eggs until creamy
Divide batter in half
Pour over crust, set aside.
Add pumpkin and spices to remaining cheesecake batter, stir until well combined
Carefully pour over cheesecake layer, spread evenly with offset spatula
Bake at 325 degrees for 30-40 minutes, the center should be slightly wobbly and the edges should be lightly browned and puffed
Turn off oven and prop open oven door for 1 hour, for cheesecake to cool
Remove from oven to cooling rack for 1-2 hours or until cool enough to place in refrigerator
Chill for at least 8 hours or up to 24 hours.
Place cold heavy whipping cream in stand mixer and whisk on medium for 1-2 minutes
Gradually add powdered sugar until well incorporated
Increase speed to high and whisk until soft peaks form and whipped cream holds it's shape
Gently fold in cinnamon.
Add right before serving.
Enjoy!