Crock Pot Chicken Alfredo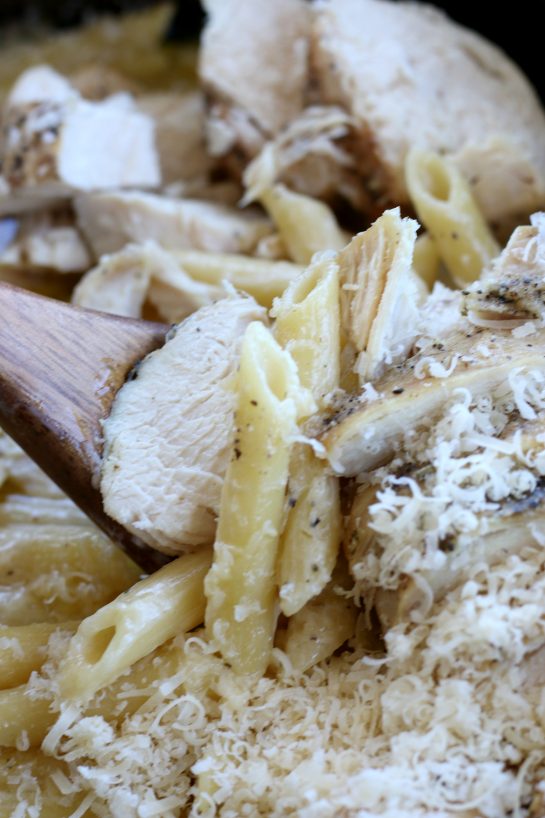 2 pounds chicken breast or thighs, skinless, boneless
1-2 tablespoons olive oil
1 teaspoon garlic powder
1 teaspoon Italian seasoning
Salt and Pepper to taste
3 cups heavy cream
4 cups low-sodium chicken broth, divided 3 cups + 1 cup
1 box (1 pound) pasta, rigatoni or penne, or your favorite
½ cup fresh parmesan cheese, plus some for garnish
Fresh parsley for garnish, optional
Heat olive oil in skillet over medium-high heat
Season chicken breast with garlic powder, Italian seasoning, salt and pepper
Brown sides of chicken in skillet
Remove and add to crock pot
Add heavy cream and 3 cups chicken broth
Cook on low for 3-4 hours, or high for 2 hours or until chicken is no longer pink and internal temperature is 165 degrees
Remove chicken from crock pot and set aside on cutting board
Add 1 cup chicken broth and pasta to crock pot
Cook on high for 20-30 minutes or until pasta is tender
Add parmesan cheese and chicken to crock pot and heat through, salt and pepper to taste if needed
Serve immediately with additional parmesan cheese and parsley, if desired. Enjoy!
Store leftovers in refrigerator.
Recipe by
Wishes and Dishes
at https://wishesndishes.com/crock-pot-chicken-alfredo/